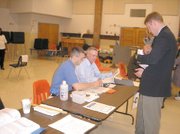 Susan Dix, chief election officer at Hybla Valley Elementary School polling place, described voter turnout Election Day as "a steady trickle." By noon on Tuesday, Nov. 6, 328 people had voted, out of a total 4,500 registered voters for that precinct.
Dix's description was apt for the morning voting hours, both in terms of voter participation and the moisture falling from the early morning sky. In fact, the low early turnout seemed to be primarily attributable to the weather. As the sky cleared and clouds gave way to bright sun, out came the voters.
"The turnout is much lower than expected. We are running below 10 percent. When we opened the polls this morning there were only three people waiting. It's usually a line of 10 to 12," said Jesse Schrum, chief election official at Hayfield Senior High School at 9:10 a.m.
But that didn't dampen the enthusiasm of Del. Mark Sickles (D-43). "I'm very encouraged. I think we [Democrats] have a very good chance of taking control of the State Senate," he said, between greeting arriving voters at Hayfield after casting his vote.
That trickle Dix referred to included Democratic candidate for Lee District Supervisor, Jeff McKay, who arrived at his Hybla Valley Elementary voting place with his wife Crystal and their 11-day-old first child, daughter Leann Madison McKay, ensconced in her candidate father's arms. He even took her with him to the voting machine.
"I think we are in great shape. Everywhere I have gone I've received a great reception. I'm looking forward to tonight," McKay said.
McKay's Republican opponent for the seat on the Fairfax County Board of Supervisor being vacated by the retirement of Supervisor Dana Kauffman (D-Lee) was Douglas Boulter. He voted at 11 a.m. at the Virginia Hills School Administrative Center where, at that time, the vote count stood at 123 out of a total 1,200 eligible voters, according to Edward Adam, chief election officer.
"The turnout has been huge for the older precincts and much lighter in the newer precincts. This tells me that the prime issue for many voters is neighborhood stability. Based on discussions with voters this election is very much about the boarding house issue," Boulter said after casting his ballot.
IN THE OTHER Southeastern Fairfax County race for County Board of Supervisors, five-term incumbent Mount Vernon District Supervisor Gerald Hyland, Democrat, faced Independent Green candidate Bruce Ryan. However, from the beginning, it seemed more like a no-opposition race than a real contest.
That is exactly why Ryan proclaimed he had decided to challenge Hyland. Right from the get-go, he said that his primary reason for becoming a candidate was to offer the voters a choice.
"I was just disheartened to see that Gerry Hyland was running unopposed, and felt that I could offer the citizens a fresh outlook on the important issues facing our county. We need more candidates and less apathy," Ryan said in a pre-election day interview.
Yet, apathy seemed to be the hallmark of his campaign. Even his statement as he left the Riverside Elementary School polling place after casting his ballot seemed to convey that. "No matter what, tomorrow it's all over," he said when asked to characterize the day's events. At that point, 2 p.m., 433 of that precinct's 2,000 registered eligible voters had exercised their franchise.
Hyland, an avid campaigner, seemed almost frustrated by Ryan's apparent failure to present a real challenge. "My opponent hasn't done anything — not even any signs," Hyland said after voting at 1 p.m. at Walt Whitman Middle School on Parker's Lane directly across from his office in the Mount Vernon Government Center.
By that time, 429 voters out of a potential poll of 2,778 had joined him in casting their ballots, according to Pauline Wade, chief election officer of that precinct.
To Hyland, this buttressed his assessment that the overall picture for the Democrats in Richmond would be a positive result from Election Day 2007. "I think we have a good chance of winning the Senate. The turnout in the western precincts of the County, throughout the morning, was very high," he said.
Joining Sickles in no-opposition state races were Del. Kristen Amundson (D-44) and State Sen. Linda T. "Toddy" Puller (D-36). "I feel very optimistic we are going to take back the Senate. We have a lot of good candidates, who all decided to run on their own without being prodded into running, and who have worked very hard," Puller said leaving her Hollin Hall Meadows Elementary School polling place at 12:45 p.m.
That precinct had authorized 418 voters by 12:30 p.m. out of a total registration of 2000, according to Chief Election Officer Matthew Szramoski. "This is one of the traditionally higher turnout precincts," he said.
As for Amundson, she proclaimed, "This is one of the few times I haven't been nervous on Election Day." She walked into her Woodley Hills Elementary School polling place at 10 a.m., where the turnout was still low: only 194 out of a potential 2,600 active registered voters, according to Marcus Davis, chief election officer.
"We [the Democrats] are cautiously optimistic. We have been very lucky to recruit excellent candidates," she said.
She also revealed an Election Day ritual with Puller. The two meet for lunch at the same restaurant and usually ordered the same thing. "We're scheduled for today right after she [Puller] votes," Amundson said.
By 2 p.m., the pace of voter turnout had definitely escalated in most of the Mount Vernon and Lee district polling places. What that portended on a candidate by candidate, party by party basis would only be revealed after the polls closed at 7 p.m.