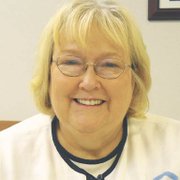 Now in its 12th season, the Loudoun Community Holiday Coalition "Neighbors Helping Neighbors" program is underway for 2007. Countless local charities, businesses, civic and social groups are busy collecting items that will bring holiday cheer to those in need. Food along with household items, gifts and toys are collected and will be distributed during November and December. Those who live in Loudoun will benefit. Effectively combining community groups accelerate collection and distribution efforts. In 1996 the Holiday Coalition reached 574 families; this year the coalition expects to serve 1,600 families — 200 more than 2006.
BRIAN SHIFLETT, Scout troop master says the Cub and Boy Scouts support the coalition efforts. On the morning of Saturday, Nov. 10, about 60-70 Scout troops will collect nonperishable food items from about 75,000 homes. Last Saturday they left a bag at each home with a note requesting the homeowner place a nonperishable food item inside the bag. Donations from the Scouting for Food drive will go to various processing centers. Scouts also play a major role in running these receiving operations. They sort, wrap, load and weigh donations. Last year Shiflett said they helped process about 18,000 pounds of donated food.
"It is impressive and amazing to see the Scouts operation of collecting and sorting food. They try to quickly process donations the same day so other groups can make up actual food baskets. Thanksgiving baskets start going out Nov. 14, so there is only a four-day turnaround.
"We're trying to teach the Scouts the value of serving our community. They're learning organizational skills and serving concepts that will stay with them through adulthood," Shiflett said. "Our Scout slogan is 'Do a good turn daily' and we want to teach them to be good citizens."
Shiflett is in his sixth year helping coordinate Scouting for Food in Loudoun.
Karen Velez, coordinator for the Holiday Coalition, says so far everything is going smoothly and her office is still receiving applications for food baskets.
"The mountain of food usually donated is unbelievable; there is a great deal of support from our community," said Velez. Last year about 70 tons of food and more than 30,000 toys, gifts and household items went to Loudoun families in need. She said a great amount of help is still needed to organize and distribute this year's donations. Gently used coats are especially needed for children and teens.
"The Holiday Coalition does a tremendous service for the county," said Bonnie Inman, executive director of Loudoun Interfaith Relief. "It takes a lot of hands to make it happen. We're glad to partner with them."
The coalition's Community Holiday Store will open again this year and the address is 23430 Rock Haven Way, Suite 160, Dulles. Hours are 9 a.m.-9 p.m. and the store will be open daily except Sunday. Volunteers aged 14 and up are needed to help run the store. Visit www.loudoun.gov/dss/holiday.