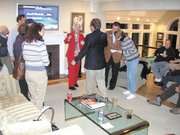 Heading into hear fourth term representing Virginia's 30th Senate District, Patsy Ticer is set to become one of the most important legislators in Northern Virginia now that the Democrats have taken control of the Virginia Senate. With 12 years of seniority under her belt, Ticer is in line to become the next chairwoman of the powerful Senate Committee on Agriculture, Conservation and Natural Resources. The committee controls a wide array of legislation such as efforts to control pollution, regulation controlling factory farms and efforts to merge citizen review boards and remove their permitting authority.
"For the time being, I would want to focus our efforts on maintaining the status quo in terms of the permitting process and the composition of the citizen board," said Ticer. "But being in charge of this committee would also put the citizens of Alexandria in a much better position to influence a host of environmental issues."
Ticer takes the helm of the committee at a time when several Northern Virginians legislators are rising to positions of prominence in key Senate committees as a result of the Democratic takeover in Virginia's upper house. Sen. Dick Saslaw (D-35) will become majority leader and chairman of the Commerce and Labor Committee, Sen. Mary Margaret Whipple (D-31) will become chairwoman of the Rules Committee and Sen. Chuck Colgan (D-29) will become chairman of the Finance Committee. The shift in power is more than partisan, though, indicating a rising prominence of Northern Virginia legislators in Richmond, which has long been dominated by other parts of the commonwealth.
"This indicates that Northern Virginia is finally taking its rightful place in terms of demographics because we will finally be able to exercise the influence that our numbers say we should have," said Susan Kellom, chairwoman of the Alexandria Democratic Committee. "Northern Virginia is coming into a period of exerting its due influence on the affairs of the commonwealth. For too long, we've been relegated to a position of subservience that was not indicated by our population numbers."
WHILE THANKING HER supporters Tuesday night, Ticer took a moment to address a rumor that has been making its way across Virginia for several months. The rumor was that Ticer intended to step down and that she was only running for re-election so that Democrats wouldn't have to defend an open seat this year. Those spreading the rumor suggested that Ticer might step down after next year's session, prompting speculation about who might run in a special election to replace her.
"Nobody told me about this plan," Ticer said. "I want to let you all know that I have never thought about that, and that it is not my intention."
Ticer is a native Alexandrian with deep roots in her Senate district, beginning her public by serving on four different parent-teacher associations, the Alexandria Hospital's Women's Auxiliary and the vestry of St. Paul's Episcopal Church before launching a political career. She was first elected to City Council in 1982, becoming the city's first female mayor in 1991. She successfully challenged incumbent Republican Sen. Bob Calhoun in 1995, and has represented Alexandria in the Virginia Senate ever since.
"Everybody loves Patsy," said Nancy LaValle Perkins, Ticer's campaign manager. "I've seen her diffuse situations just by listening. And even if you disagree with her you don't mind because she's just so level headed."