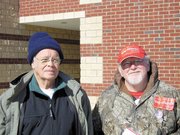 Volunteers from various local campaigns stood outside on a cold election day passing out sample ballots for their respective candidates and political parties Tuesday, Nov. 6.
Although many voters have already selected the candidates they will vote for, these campaign workers still hand out literature for those perhaps undecided citizens.
"I think most people have made up their minds by the time they get to this point, but you never know," said Fred Lovell, an Ashton resident and Republican who worked all day at Briar Woods High School in the Dulles District.
Although Lovell acknowledges that many people have already chosen a candidate, he still wants to make a difference.
"They're here to vote," he said. "Are they going to change their minds? I don't know, but you want to do what you can for the person you believe in."
GEORGE TAYLOR, a Democrat working at Briar Woods who served with the Air Force in the Korean War from 1951 to 1955, said his current anti-war stance inspired him to volunteer so he could do his part to change the government.
"I am so anti-war I would do anything possible to make a change," he said.
Taylor also said his goal Tuesday was not to influence voters, but simply to give them information.
"You don't try to influence anyone at this point in the game," he said, adding that people have already made up their minds.
Austin Deutsch, a Republican volunteer at Sully Elementary School who came from Richmond to help with the Patrick Henry College Republicans, said his support of Republicans and the idea of lower taxes drove him to participate.
"I'm just trying to support the Republican Party because I don't want them to lose the majority in the Senate and the House," he said.
Most of the work he did before Tuesday was active campaigning, including door to door visiting and passing out flyers, but on election day he simply handed out sample ballots like many volunteers.
"I think what we're doing makes a difference because there's a lot at stake," he said.
Democrat Precinct Captain Willie West, husband of Sterling District supervisor candidate Jeanne West and her campaign manager, worked at Sully as well.
"I'm out here to support the party, but my main focus today is to support Jeanne and get her elected," he said, adding that he thinks people should be involved in politics. "I think citizens should participate in the process. That's very important."
West said he has worked on a lot of campaigns, but this is the first one he has managed.
DARRELL SCHWALM, member of the nonpartisan group Voters for Loudoun's Future, has lived in Loudoun County for 25 years and became active because of his distaste for the nonmanaged, uncontrolled development in the county.
"I'm out here because I really feel the quality of living here in Loudoun County is deteriorating," he said. "I believe in growth, but I believe in managed growth."
Schwalm mostly used signs outside the school to convey his message.
"It's really just a show of support more than anything," he said.
Evan Macbeth, a Democrat working at Frances Hazel Reid Elementary School in the Leesburg District, said he arrived Tuesday morning while it was raining. Although the day was cold later, he said the voters he encountered were friendly.
"Here in Leesburg, we're all very neighborly," he said.
After he graduated from the University of Virginia with a degree in government, he enjoyed working on campaigns for Jim Webb and Judy Feder.
"I get a huge personal and psychological reward from it," he said. "I love election day. Election day is like my marathon."
Although there was a steady flow of traffic to the polls, Republican and Democratic volunteers talked to each other throughout the day.
"We have good conversations with whoever's here," West said.
Deutsch agreed.
"We're different parties, but we all get along," he said. "There are nice Democrats out there and there are nice Republicans, so we all just talk and get along."
For a little while, the Republican volunteers were not at the Frances Hazel Reid school. Macbeth said that, in addition to small talk between sides, volunteers from one party watch the other's tables if the party's volunteers are not around.
"It's very cordial," Macbeth said.