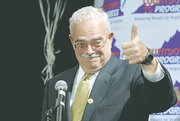 Fairfax County Board of Supervisors chairman Gerry Connolly (D) easily won re-election to his position over Republican challenger Gary Baise Nov. 6.
Connolly secured 61 percent of the countywide vote with 113,796 votes to Baise's 68,402 votes. Approximately 33 percent of registered voters participated.
"I want to make Fairfax an even better place over the next four years," said Connolly, declaring victory at the statewide Democratic celebration at the McLean Hilton in Tysons Corner.
Connolly was the heavy favorite to win the race for Fairfax County Board of Supervisor chairman.
Connolly, who served as Providence District supervisor prior to becoming chairman in 2004, is one of the hardest working candidates and most successful fund-raisers in Fairfax County. His opponent, Republican activist Gary Baise, who had never run for elected office before, raised less than half of Connolly's totals.
"When you are a challenger, it is always an uphill battle. … I am pleased that I was able to give Fairfax County a choice in the race," said Baise.
CONNOLLY said Fairfax residents have been responding to several of his successful initiatives, including his work in gang prevention, his environmental "cool counties" program and his investment of county funds into transportation projects.
The county government has also recently begun to focus on overcrowding in residential neighborhood and the proliferation of boarding houses by creating "strike forces" to tackle the problem. Though the county will tackle "illegal behavior" — such too many people living in a house — it will not start screening for immigration status under Connolly's leadership.
"We are not engaging in political posturing like some of our neighbors," said Connolly.
Several political observers speculate that Connolly could consider running for the 11th District congressional seat in 2008, possibly cutting his term as chairman short.