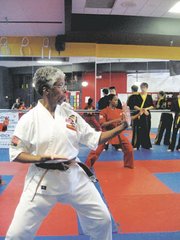 Elaine Fields can remember the moment that she decided to dedicate herself to the study of martial arts.
The retired Fairfax County administrator and Burke resident was picking up her grandson Austin from his karate class at Dietrich Karate Studios about three years ago, when Austin asked her if she thought she could do what he did.
"I said, 'Well, give me a white uniform and I'll be able to do those things too,'" said Elaine Fields, with a laugh. "So it really was a challenge from him and to show him that I could do it."
She was not the only member of the family joining in Austin's challenge. His mother and Elaine Fields' daughter, City of Fairfax resident Melanie Jones, had already resumed her martial arts studies alongside her son.
Three years later, Elaine Fields, Jones and Austin were all standing at attention in the main workout area of the Dietrich Karate Studios in Burke. The three had all begun the arduous test toward achieving one of marital arts' highest honors: a black belt.
Over the course of the next 7 1/2-hours, the three generations would have to complete martial arts motion routines, show coordination and physical abilities, break boards and even fight off as many as three attackers at one time, all on their way to achieving their black belts. All three were successful.
PHYSICAL FITNESS is nothing new to the Fields and Jones family.
Elaine and her husband Clint Fields, a retired Army officer and National Zoological Park employee, have always stressed physical activity as an integral part of life.
"That's the way the whole family feels, that physical condition, physical maintenance is kind of a lifetime dedication; you have to do it," said Clint Fields, pointing out that his wife has already run multiple marathons. "So I can see where this would be something that is of interest to all of them."
Karate was first introduced to the family when Jones, then single, fresh out of law school and living in Washington, D.C., began to take karate courses for recreation and self-defense purposes.
"I just wanted to stay fit and it seemed like a great way to control your body and learn range of motion," said Jones, who now works for the Department of Justice. "But it's a sense of accomplishment, it's about setting goals that have nothing to do with anyone else but yourself and going forward to accomplish them."
For Jones, karate is about earning confidence through persistence.
"It boils down to having the confidence that if you keep working at something, you will accomplish it," she said. "It's just about having enough will power to keep yourself going, no matter what."
STORIES LIKE THAT of the Jones and Fields families are not uncommon, in light of the dedication required to meet the challenges of karate, according to dojo master Michael Dietrich, owner of the Dietrich Karate Studios.
"Parents will come in for their kid mostly, they see what's going on and they start to wonder themselves if they can do something like that, and the answer is absolutely," said Dietrich. "If I can tell you that your life can change 100 percent from the moment you walked in here, why wouldn't you do it?"
What might start for some as a push for some to gain confidence, direction or discipline in life can all end in the same place if the student sticks with it, he added.
"Some people see me as a guidance counselor, if you will, I'm a consultant," Dietrich said. "When you walk through that door, I'm the person who can help you to realize what you are capable of."
"I'm able to remove some of those boxes that people can find themselves in and these people can grow substantially."
And those people must not all be in perfect physical health. Over the years, Dietrich has trained and coached a number of students with disabilities, including autism, blindness and deafness to reach the level of black belt, he added.
WHILE A SENSE of personal growth is inherent in the study of martial arts for both Elaine Fields and Jones, for Austin, now 9, the attraction to its study is more basic.
"I just wanted to do it because it seemed like a lot of fun," he said. "It's taught me that if you work hard you can accomplish almost anything, but most of all it's just a fun thing to do."
The prospect of spending more time in creative ways with her family and others has been one of the biggest benefits that the study of karate has brought Elaine Fields.
"It's a way that I can spend more time with my family and to do something productive and fun," she said. "There are a lot of families who are here, so it's a community that we have here as well."
The thought that she would be performing high kicks and martial arts motions for her black belt three years ago still makes Elaine Fields laugh, but the reality also has another lesson.
"You're never too old to try new things," she said. "And if you look out there, you'll find that a lot of people will be supportive of your efforts."