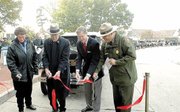 The first two weeks of November 1932 were notably exceptionally in the history of this nation. Yet one event in that period drew very little notice from Americans but impressed Europe enough to send dignitaries to not only mark the occasion but also to learn how they might copy this modern marvel.
Nov. 9, 1932, American newspaper headlines were filled with the outcome of the "Landslide" presidential victory of Franklin D. Roosevelt and the Democrats take over of what was then dubbed the "WET" Congress. It was going to be the end of prohibition. Booze was back and wet, and, hopefully, the beginning of the long climb out of the nation's worst depression was about to commence.
One week later, Nov. 15,1932, the other event occurred. But, it received banner headlines only locally — in the Alexandria Gazette and Washington newspapers. It was properly noted elsewhere but not in triple banner style as had been the case for the election and the return of "liquid gold."
That less heralded event was the opening of not only America's but the world's first true parkway designed for the automobile. It was the Mount Vernon Memorial Highway or, as it is known today — The Mount Vernon Memorial Parkway.
Last Saturday it celebrated its 75th Anniversary with a ribbon cutting ceremony at Mount Vernon Estate, just off the circle where there is a marker noting its construction and significance to the future of highway development. It's opening in 1932 was specifically planned to mark another epic event in American history — the bicentennial of George Washington's birth in 1732.
"It's hard for us today to recall how big a deal George Washington's bicentennial birthday was at that time," said Timothy Davis, Ph.D., lead historian, National Park Service, during a lecture on the parkway's development prior to the ribbon cutting ceremony.
It was not just a highway. It was a particular kind of highway that meshed the enhanced ability to get from point A to point B while enjoying scenic beauty and historic sites. It was the epitome of pleasure driving in its day and it led from the nation's capital to the home of the nation's father and first Commander-in-Chief.
There were still bread lines and homeless citizens all along the nation's urban streets. And, FDR was yet to bring his multiple "alphabet soup" agencies into play to reinvigorate the nation's payrolls. But this single event almost seemed like an omen that the worst was over — at least economically.
"There was a tradition that if you went to Washington for a visit you had to go to Mount Vernon to visit George Washington's home. And, it was expected that many people would want to go to Mount Vernon for Washington bicentennial birthday," Davis said.
"That triggered the push to get the highway done in time for that anniversary. Building started in 1929 and it was finished in just under four years at a cost of $6 million," he said.
"When it was completed it was considered an American Appian Way. It was America's first cultural/historical parkway," Davis explained.
THE IDEA OF A PARKWAY had been around for many years but they were pathways of aesthetic pleasure and not geared to the automobile. "The idea behind the parkway for urban planners was to get from park to park or from your residence to a nice relaxing area without going through the ugly parts of an urban complex," Davis explained.
But as parkways became the better roadways of the time they became clogged with vehicles and cluttered with roadside advertising — the billboard, according to Davis. Traffic was relatively ungoverned as to flow and highway design. Unregulated intersection and narrow roadways prevailed, according to Davis.
"During the 1920s and 1930s there were more highway deaths per mile driven than at any other time in our history. And, that includes today," Davis said.
Prior to the opening of the George Washington Memorial Highway the round trip from Washington to Mount Vernon took six hours. It was bumpy, dusty or muddy, depending on the weather, and not a pleasant trip, according to Davis.
That all changed Nov. 15, 1932 — at least for the section from the Arlington Memorial Bridge to Mount Vernon. The parkway's northern portion was not completed for another 38 years in 1970, event though most of the work was completed in the 1950's and 60s.
Today the 40-mile long scenic parkway contains 7,000 acres of park land, offers a variety of recreational facilities, has two wildlife refuges, numerous historic sites, and an array of civic and military memorials. It also remains one of the best designed roadways of its class in the nation.
KICKING OFF the ribbon cutting ceremony David Vela, superintendent, GWMP, NPS, said, "We cut this ribbon in honor of those that helped to inspire this highway. This roadway helps people to remember George Washington and the people that established this nation."
Joining Vela in the official ceremony were Mount Vernon Executive Director James Rees and Melisa Ridenour, division engineer, Eastern Federal Lands Highway Division, Federal Highway Administration.
"We are very proud at Mount Vernon not to receive any federal money. But, this highway is a real boost to us," Rees told the crowd gathered at the memorial marker.
"This roadway was built along the Potomac River to enhance people's view of the river and the view of Washington. This parkway project triggered many other parkway project here and throughout the world," Ridenour said.
One of the highways it inspired was Germany's autobahn. Among those so impressed with its design was Adolph Hitler who used it as a guiding model for Germany's national roadway, according to Davis.
Following the ribbon cutting a caravan of vintage automobiles from the Mount Vernon Region Model A Restorers Club and the George Washington Chapter, Inc., of the Model A Ford Club of America traveled from Mount Vernon to the Arlington Memorial Bridge. Some then returned to Fort Hunt Park where they were on display for the remainder of the afternoon.