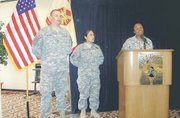 Col. Brian Lauritzen gave his final Veteran's Day address as the Installation Commander of Fort Belvoir to members of the Mt. Vernon-Lee Chamber of Commerce and representatives of the various U.S. Armed Forces last Thursday during the Chamber's annual Veterans Day luncheon.
He will relinquish command prior to Veterans Day 2008.
"Everything we do here is very much a team effort between the military and civilians. Veterans Day gives us the opportunity to bring it all together," Lauritzen told the crowd gathered at the base Officers Club.
Addressing the question of "Answering The Call," Lauritzen said, "Answering the call to duty manifests itself in many different ways. But, there are few more honorable callings than serving others."
In making his point he told the story of a Sgt. DeLuca who had picked up a U.S. Navy sailor on his way home for leave with very little money. Sgt. DeLuca bought him dinner, allowed the sailor to stay at his home at Fort Bragg overnight, drove him to his home the next day — a distance of 145 miles one way — and gave him $20. DeLuca's only request was that the sailor someday return the favor to someone else.
That meeting led to a long friendship between the two; until one day when the sailor called DeLuca's home and he was told that the Sergeant had been killed in action in Vietnam.
But the sailor kept the bargain, and went on to help others.
In his introduction of Lauritzen, Chamber President Nathaniel E. Wilson said, "Col. Lauritzen has been the right man, in the right place, at the right time for us and Fort Belvoir at this juncture. He is more than a commander, he is a friend. We are honored to celebrate this day with him in honor of all America's veterans."
As is the case each year at this luncheon, Fort Belvoir recognizes its Non-Commissioned Officer of the Year and Solider of the Year. Last Thursday those awards went to Sgt. Travis D. Mayhew and SPC Joanna Montoya respectively.
Also participating in the annual event were Chamber Vice President Walter Clarke; Fort Belvoir Chaplain The Rev. Physioc; the Mount Vernon High School JROTC Color Guard; and Gaye DeCesare, Fort Belvoir Federal Credit Union, who sang the National Anthem.