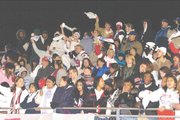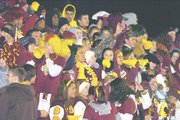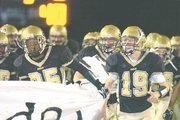 There are lots of ways of getting to know the community around you in Loudoun County. But one of the best ways for getting a first-hand feel of the area's heartbeat is by attending a local high-school football game.
"It's a focal point for the community," said Dominion High Athletic Director Joe Fleming, whose Titan sports teams compete in the prominent Dulles District. "Football is the sport that opens up the school year. When you attend a game, it's more than just a game. You've got the game, cheerleaders, the band. Neighborhoods come out and support the [teams]. … Friday nights bring everyone together."
While the 2007 high-school football regular season has concluded, the season is still not over for several Loudoun teams who will be competing in the playoffs beginning this Friday night. The area will be strongly represented in the postseason by four schools: Stone Bridge High in Ashburn, Broad Run in Ashburn, Park View in Sterling and Briar Woods in Brambleton.
Stone Bridge, a member of the Northern Region, will take on Marshall High in a Division 5 semifinal game. Meanwhile, Dulles District powers Broad Run and Park View, who clashed in last week's regular season finale for the Dulles District title, will meet again on Friday night in a Region II, Division 4 semifinals playoff game. And Briar Woods, another member of the Dulles District, is preparing to take on Millbrook from Winchester in a Region II, Division 3 semifinals contest.
LOUDOUN AREA high-school football has a rich tradition. Schools such as Loudoun Valley in Purcellville, Loudoun County in Leesburg, Broad Run and Park View are more established schools with football programs, which have built up large followings over the years. But newer-built schools such as Briar Woods and Freedom in South Riding, which both came into existence in 2005, Potomac Falls High in Cascades, which is just over 10 years old, and Dominion in Sterling have also generated loyal football followings.
There is a small-town feel to high-school football game nights in Loudoun County. The electricity and enthusiasm generated at these games has some of the same nostalgic feelings one can experience at high-school football games in small towns throughout America.
But there is also a big-time feel to the local games because of the prominence of Northern Virginia and being stationed just outside of the nation's capitol. So there is the cozy, small-town community feel, along with the backdrop of Washington, D.C.
Closer to the beltway, Fairfax County high-school football, with the deep, rich football tradition of schools such as Annandale, T.C. Williams in Alexandria City and Robinson High School, has thrived for decades. But Loudoun County has also emerged as a hotbed of high-school football excitement.
"In particular the past 10 years, I think [Loudoun County area football] has grown," said Briar Woods head coach Charlie Pierce, who has led the Falcons to their first playoff appearance in their short three-year history. "It's starting to get as much recognition as Fairfax County. As demographics have changed, Fairfax County has gotten filled up and people have moved out here. We're the next area in the transitioning."
A school's football success obviously is a huge factor in the level of fan interest. Stone Bridge High, which opened in 2000, won Dulles District titles in 2003 and 2004 before moving to the Northern Region's Liberty District in 2005, where it has won three straight district championships.
"[Stone Bridge coach] Mickey Thompson has a very good program," said Stone Bridge Athletic Director Dave Hembach, who also said numerous other sports teams at the school have outstanding programs. "Our [football] stadium holds 3,000 and we usually have 3,000 at [the games]."
The pregame atmosphere at Stone Bridge is a spectacle with a fog machine adding to the aura of the player introductions and a large, 15-foot-high plastic Bulldog staring down the opposition.
"It does create a nice atmosphere," said Hembach. "It's a fun night."
Hembach said the Ashburn community is a wonderful sports town.
"We were very fortunate we opened up in Ashburn," said Hembach, who prior to coming to Stone Bridge was the Park View High A.D. from 1994 through 1999. "We're right in the middle of the community. We have very good youth programs which leads to good programs in the high school."
Fleming, the Dominion A.D., agrees that a successful youth sports program in a particular community generates excitement, which ultimately carries over to the high-school sports scene.
"I think [sports enthusiasm] starts with the youth leagues," said Fleming. "We have a young, vibrant community [in Sterling]. The parents just follow their kids up."
Alonza Butler has been Broad Run High's athletic groundskeeper for the past nine years. He said the Spartans' athletic department, much like other schools in the area, emphasizes the importance of good sportsmanship from both the football teams' players and the fans in attendance.
"The kids know they should be on their best behavior," said Butler. "But we also want them to cheer [with enthusiasm]. Football is starting to pick up here. When we play Park View or Stone Bridge, we always get a good crowd. The kids [from those schools] all know each other. We try to emphasize sportsmanship."
Broad Run has enjoyed a spectacular season. Spartan senior quarterback Cole Shain said the team has gotten a huge boost from its fan base this season.
"We have great fan and student turnouts," he said.
He recalled Broad Run's earlier season game at Briar Woods as one of the best road game atmospheres he ever played in. The stadium in Brambleton was packed that night with fans of both teams. Broad Run won a close, exciting contest.
"Not only was the Briar Woods side packed, but so was our side," recalled Shain. "That was a great feeling."
LAST FRIDAY, Broad Run won arguably its biggest game in school history when the Spartans, in front of a packed stadium, defeated Park View to clinch the district title and conclude the regular season with a perfect 10-0 record. The atmosphere was at a fever pitch before and during the game. The school's parking lot was packed, so many fans attending the game parked up and down Ashburn Road across from the school.
Broad Run High junior backup quarterback/defensive back, Chris Jessop, said playing in such a big game in front of so many spectators was a thrill.
"It was unlike anything I've ever seen," said Jessop. "The students got into it. It brought the community together. It was great."
Broad Run's victory was particularly huge because it came over a Park View program, which has had enormous success over the years under such coaches as the legendary Ed Scott, Mickey Thompson, Charlie Pierce and current coach Andy Hill.
Scott led the Patriots to a state title in 1988. Over the past two years under coach Hill, Park View has won district crowns in 2005 and 2006.
"Park View football just has a great tradition, started by Ed Scott," said Thompson, the current Stone Bridge coach who was at the helm of Park View football from 1990 through 2000. "It was a solid program when I got there."
Broad Run head coach Mike Burnett, a former high-school coach in California who has been thrilled with the Spartans' fan base this season, said widespread media coverage in Loudoun is more vast at the high-school level then what he has experienced before.
"I think media coverage here is big," he said. "In California, you'd talk to a reporter once or twice a season. The coverage here whets peoples' appetite."
BUT NOT EVERY local high school has a strong team to attract fans to come out and watch. Freedom High's football team, a third-year program that played numerous underclassmen throughout the season, fought through a winless 2007 season. Even so, the Eagles have still received good community support and solid turnouts for home games.
"Even though we haven't done well, we're really happy with the turnout of the community," said Freedom assistant coach Jason Eldredge. "I know they are not happy with the results, but they come out."
Eldredge has experienced both winning and losing as an assistant coach. He was part of Westfield High's coaching staff in 2003 when the Bulldogs, a Division 6 member of the Northern Region, won the State AAA title.
And this season he experienced football from the other side of the scoreboard. But even though the Eagles did not win, coach Tom McIntyre's team played hard and drew fans.
One of Freedom's best turnouts this season came in week two of the season against Brentsville of Nokesville.
"It was packed," recalled Eldredge. "The parking lot was full of cars and lined up on Ryder Center Drive. The community wants to get behind us. Even for the Broad Run game [late in the season], they still came out."
Freedom High reaches out to the youth sports community. The Eagles hosted a youth football night earlier in the season. The new Dulles South youth football league carries the same team nickname — Eagles — and team colors — black/Vegas gold — as Freedom High.
"I love the fact that kids come to the games in their uniforms and cheer on our players," said Eldredge. "It helps the program when the community gets behind it, win or lose. I like the fact that the kids come to our games."
Whether the local teams are winning or losing, high-school football in Loudoun County is thriving.
"Game night is something you always look forward to," said Pierce, the Briar Woods coach. "We have a whole community effort here from the administration, parents, community, student body and the [school] band."