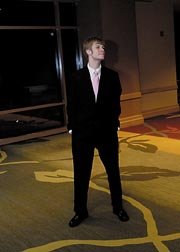 Loudoun County Public Schools honored 266 seniors for their academic achievements at the 25th Annual Excellence in Education Banquet, Sunday, Nov. 11, at Lansdowne Conference Center and Resort.
The students that were honored are members of the Class of 2008 from the county's 10 high schools and Thomas Jefferson High School for Science and Technology that have achieved a 4.0 or better grade point average during the first three years of their high-school career. Additionally, 17 students were recognized for their selection as National Merit Scholarship semifinalists and three for selection as a National Achievement Scholarship semifinalist. As part of their recognition, each student selects a teacher who has most influenced their academic achievement to accompany them to the banquet.
* From Dominion High School: Jenna Ashworth, Mauricio Ayala-Zelaya, Sara Barta, Kelly Blackburn, Meghan Butt, Nicole Butt, Justin Cook, Alyssa Fahringer, Nyssa-Marie Finegan, Ryan Green, Christopher T. Hill, Niloofar Latifi, Andrew Livingstone, Eric L. Nguyen, Kyle O'Donnell, Ian Pearson, Shabnam Rahimi, Ian Saeger, Auesta Safi, Adriana Santamaria, Michaela Suomi, Allison Turchan, Michael Urgel, Guilherme Villar and Jenni Weatherly.
* From Park View High School: Jacob Albert, Hannah Armiger, Natalie Baird, Caitlin Boulware, David Fink III, Susan Geiger, Bethany Hansberger, Jasmine Khan, Darby Kidwell, Kirsten Kiwior, Allison Light, Ngoc-Han Nguyen, Tasia Paraskevopoulos, Jessica Santana, Margaret Shalap, Katie Spaulding, Gia Thi, Michael Vereb and Michael Villalobos.
* From Potomac Falls High School: Arshad Ali, Tara Ananth, Lauren Anderson, Annesha Basu, Evelynne Bayar, Jillian Bizal, Caroline Bour, Elizabeth Caccia, Michael Castor, Whitney Cavin, Brooke Chrisman, Kelsey Cox, Katherine Dacanay, Maddy Dannenberg, Samuel Dorman, Alexandra Endres, Stephanie Fliss, Jeff Geiger, Susan Gretzkowski, Evelyn Hay, Jasmine Hsu, Kevin Izadpanah, Sarasi Jayaratne, Matthew Jones, Sandhya Kumar, Joseph Lasik, Kristiana McMunn, Andrew Morris, Jenna Padilla, Gurleen Pahal, Zainab Raza, Veronica Shalotenko, Laura Siegert, Emily Smalling, Holly Szoke, Joseph Ulsh, Alia Wagenhoffer, Courtney Walker and Stefani Werner.