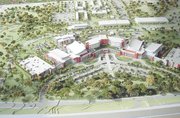 With ever increasing serious injuries from the wars in Iraq and Afghanistan putting additional demands on existing medical facilities, military and civilian leaders gathered at Fort Belvoir Nov. 8 to officially begin construction of one of the most advanced hospitals in the nation.
"This groundbreaking defines who we are. We will spare no expense in restoring health to our wounded military. This is just one piece of a capital area plan to raise the bar on health care for our military," said Maj. Gen. Eric B. Shoomaker, M.D., Commanding General, North Atlantic Regional Medical Command, at the construction commencement ceremony for the new Ft.Belvoir DeWitt Community Hospital.
"Groundbreakings are very interesting events. Will this one become just another yellow photo in the future? Instead, I choose to see this event as a demonstration of what we mean to this community," he told the crowd of military and civilian dignitaries assembled on a portion of a Ft. Belvoir golf course that will be home to the new hospital.
Noting that the new facility will be part of the nation's health care system, Rear Admiral John M. Mateczun, commander, Joint Task Force, National Capital Region Medical, said, "We need to develop this facility to care for our newest veterans coming back from the Middle East. In doing so, people in the future will say we had a vision."
Maj. Gen. Gale S. Pollock , commander, U.S.Army Medical Command/Acting Surgeon General, echoed that prophecy. "For our veterans' self-sacrifice they deserve the best medical care available. It is our people who will carry forward the compassion and professionalism for our veterans. This is a team effort," she said.
"Of all the BRAC recommendations the only unanimous one was to support the realignment of military health care. Facilities at Walter Reed are outmoded and not worthy of our returning veterans," said U.S.Rep. James P. Moran (D-8).
"Now Bethesda and DeWitt will be the premier medical facilities in the world. The Defense Appropriations bill provides for the completion of this facility. It is the largest appropriation in history for health care facilities," Moran said.
"This new hospital embodies the highest level of care possible. All Americans can be proud. It will be the premier example of how we should treat our returning veterans," he said.
"This is an awesome day and an awesome moment in history. Today we break ground that will easily stand the test of time. This will be a state-of-art health facility," said Ft. Belvoir Installation Commander Col. Brian Lauritzen.
THE NEW $747 million facility is part of the 2005 Base Realignment and Closure (BRAC) program that calls for the closure of Walter Reed Army Medical Center, the enhancement of Bethesda Naval National Medical Center, and the construction of the new DeWitt Community Hospital. The latter is scheduled for completion in late summer 2010.
Its conceptual design calls for a 1.2 million square feet, six-level community hospital with 120 in-patient beds, a 10-bed intensive care unit, a 10-bed behavioral health patient unit, cancer center, emergency department, pharmacy, operative services center with 10 operating rooms, multiple diagnostic centers, and a modular clinic space dedicated to outpatient services.
In addition to the primary facility, the project includes two parking garages and surface parking for 2,600 vehicles, a helipad, ambulance shelter, and a dedicated central energy plant. All this will be supported by logistical and administrative services ranging from food services to utility maintenance and landscaping.
The seven-building, multi-story campus complex is being built by Turner-Gilbane, a joint venture comprised of Arlington based Turner Construction and Gilbane Building Company with a Mid-Atlantic Regional office in Laurel, MD. The new complex was designed for the U.S.Army Corps of Engineers by a joint venture team of HDR Architecture, Inc, Alexandria, and Dewberry, Fairfax.
Construction is through an Integrated/Design/Bid/Build (IDBB) procurement process. It uses coordination with a construction contractor to increase constructability and reduce design omissions and errors. This is intended to accelerate the construction contract process to meet BRAC's Sept. 15, 2011 deadline.
Once opened, the hospital will be part of a world-class integrated health care network providing services to America's veterans and families. The hospital is one piece of realignment designed to increase hospital and outpatient care for all military personal active and retired, according to the DeWitt Health Care network.