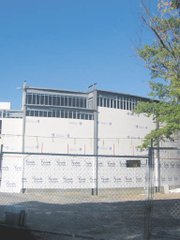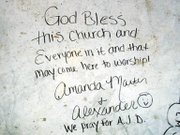 It stands now wrapped in protective paper and orange construction fencing, a drywall and steel development on Ox Road where a simple red brick house used to exist.
For Rusty Coram, lead pastor of New Hope Church, it is among the most lovely sites his eyes have ever seen.
"We moved here in 1992 and started the church shortly after that," said Coram, who runs the church along with his wife, Becky. "We started meeting in elementary schools and high schools. We've been meeting at South County Secondary since they opened two years ago."
The church, whose mission statement involves making those not in the habit of going to church feel comfortable in their services, has never had a structure all its own. As a result, the congregation has spent its entire life being "mobile," as Coram calls it, living its outreach and community involvement both in ministry and meeting.
"We want to be a place for people to investigate Christianity at their own speed without feeling judged," said Coram, speaking from his temporary office, in a construction trailer next to the church-in-progress. "We are not trying to create a new brand of faith, we're just trying to make it like more of an open house."
The name for the church came from suggestions made by people who did not regularly attend services, Coram said.
"There was a group of 19 of us when we first started and we couldn't figure out what to call it," he said. "We had a list of 10 or 20 names and asked people who did not go to church what they liked. New Hope was not on the list, but it was one of the suggestions given to us."
People new to attending services are called guests for the first few weeks, Coram said, and are welcomed with open arms by long-time members, who include 10 of the 19 original members of the church.
The church itself, scheduled for completion and opening early next year, will have between 45,000 and 47,000 square feet of space, including a 685-seat auditorium for services, a large preschool-daycare and play area, offices, meeting rooms, classrooms and an entryway for people to greet each other on Sunday mornings, Coram said. The goal is for the church to be used each day of the week for various programs, meetings, services and activities once the building is open.
Coram said approval for a 99-child daycare center has already been received. Students from age 3 to those ready for kindergarten will have a large room to play in, complete with a slide from a wall into a ball pit.
Plans for a second phase of construction, which may be added in the future, would include a gymnasium and more classroom areas and would connect to the main church building through an underground tunnel. In fact, an elevator inside the church has already been factored into the construction, but it stops at the muddy ground instead of a concrete floor.
AS EXCITED as Coram is to have a home, finally, for his congregation, he is a little hesitant.
"When we've been mobile, we know it takes 70-plus people to get things up and moving and get everything set up for services," he said. "We don't want to lose that when we move in. We want to keep the mentality that it's our church, but we're here to serve others in the community. Being mobile gave us the advantage of being in people's homes for meetings, and we don't want everything to be centered in one place."
To help continue in that spirit, the church is already planning to continue its partnership with Halley Elementary School, just behind where their new church will be located, Coram said. He is also looking to continue working with South County Secondary and possibly expanding their service work to other organizations in the southern part of Fairfax County, like the Lorton Community Action Center.
"We hope that, as time goes on, people in our community will see us as a real good neighbor, a church that is lively and willing to work to make a real difference," Coram said.
New members may also be enticed to check out New Hope by meeting other members.
"I was going to Holy Spirit Church in Annandale when my sister told me to check this place out," said Dave Schleyer, a member of New Hope since 1994 and the current director of church operations.
He became a member because he was impressed by the genuine compassion and belief he saw in other members, the feeling that these people he did not know wanted him to be happy and have a strong sense of faith.
"If you want to be involved, you can be, but you don't have to," Schleyer said. "There's an openness and sense of caring that has engulfed the whole community."
Schleyer said he hopes to see the church offering English language classes one day, maybe even some programming for families with special needs children.
"There's a lot of things we can do here because we'll have space for more than four hours on a Sunday," he laughed. "There are so many things this community needs, and we don't want to spend half a million dollars on a church to see it sit empty the rest of the week."
Like Coram, Schleyer believes the church's best quality is the open hand it extends to people who do not regularly attend church.
"It's not outward evangelism, it's creating an environment where people are comfortable enough to ask questions," he said.
John Scott, designer and architect of the church for Scott Construction, said he has enjoyed working on the church for the past few months.
"New Hope was built to be more of a community center than a church," he said. "They have a real passion for taking care of the families in the area and that's built into the church."
When the second phase of the church is completed, the building itself will look like a cross, Scott said.
He is confident that, weather permitting, the church will open next spring.
"We're just thrilled," he said. "It's one of the best churches in the area and the only new one to be built since all the new houses came in. We're very excited for our part of providing this service to the community."