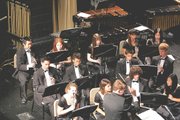 For most of us, going to see an accomplished musical group involves a trip into Washington, D.C. On Monday, Nov. 19, the opportunity is much closer to home. The Dallas Brass, whose resume includes Carnegie Hall, the Kennedy Center and many international venues, will be performing at Freedom High School. Accompanying them will be a selection of students from local schools, including Freedom High and nearby Mercer Middle School.
The Dallas Brass was formed in 1983 by Michael Levine and is dedicated to bringing music to "ages 5 to 95." They have garnered much praise for combining a traditional brass sound with drums and percussion. They have played for Presidents Gerald Ford and George H.W. Bush, as well as with symphony orchestras around the country. In addition to touring, they have released six studio albums.
Todd Jamison, treasurer of the Freedom High School Fine Arts Boosters, hopes that the community recognizes what a unique opportunity this is.
"You can't go to the Kennedy Center for less than $60 and that's not even including the hassle to get there."
The concert will take place in the auditorium, which will provide a much more intimate setting than the average concert.
The show will not be a typical classical performance. "They put on a great show," says Jamison. "It includes humor, stories, history and of course music. There is definitely something for everybody."
IN ADDITION to the Monday night show, the students will participate in an instructional clinic taught by the group. Freedom High band director Joel Galway said that this is all part of the group's repertoire.
"They [Dallas Brass] like to work with students, to help them become better musicians."
Rather than focusing on specific instruments, the clinic instead will offer practical performance tips for young musicians. This provides a special opportunity for the students to learn from, as well as interact with professional touring musicians.
The students will be taking part in the finale, a medley entitled "American Tableau," which is a journey through America's best known songs. After the show, the group will participate in a meet-and-greet session to sign autographs and talk to fans.
The show is open to everyone, tickets are $20 for adults, $15 for students and can be purchased at the door or online at www.fhsfaba.org. All proceeds go to the Freedom High School Fine Arts program. Doors open at 6 p.m. for ticket sales and a free art exhibition featuring Freedom High's art students.