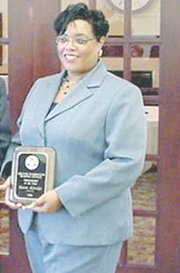 Sharon Aldredge, principal at Woodley Hills Elementary School in the Mount Vernon District, was recently named Elementary Administrator of the Year by the Greater Washington Reading Council during its conference at Fair Oaks Waterford.
"I knew I had been nominated but winning was a total surprise," Aldredge said, sitting in the school's conference room. Her nomination originated with Woodley Elementary teachers Mary Kate DeRose, Judy Elmore and Eric Johnson. It was also supported by letters from other teachers as well as parents of children in her school on Old Mount Vernon Road.
"Aldredge is praised by members of her staff for challenging students to reach their highest literacy potentials and to become lifelong lovers of reading. To encourage literacy at Woodley Hills, Aldredge consolidated classroom libraries into one well-catalogued book room that is accessible by all instructional staff and makes it easy for teachers to select books for students with various reading abilities," according to the Council's announcement of her award.
She has instituted a program, in conjunction with her teachers, where she "personally monitors the reading progress of every Woodley Hills student, ensuring that each student's reading skills are at or above grade level," according to the Council. She has also funded a bilingual library that serves not only the students but also their families.
All 565 students in this K-through-sixth grade school are encouraged by Aldredge to read to a therapy dog, who is accompanied by his trainer to the school as an aid to those who might otherwise be reluctant readers. She thoroughly supports the school's annual Literacy Night and the Read Across America Day event.
"She models an enthusiasm for learning through her own reading and sharing of literacy research. And she celebrates the literacy learning that goes on in our school. She both talks the talk and walks the walk," said her three nominators at the award event.
The Council, composed of reading teachers and school administrators from throughout the Greater Washington Area, is committed to helping teachers further their professional development in the field of literacy. The award is given annually to both an elementary and middle school administrator, according to Aldredge.
AN EDUCATOR for 15 years, Aldredge commenced her career at Garfield Elementary School in the Springfield area. She came to Woodley Elementary School in 2001 as assistant principal and was named principal in 2004.
"I absolutely love being here. And, I'm very fortunate to be able to work with so many excellent educators and have such supportive parents," she said.
"Our greatest challenge today is making sure that we meet the needs of each individual child. This has become increasingly important with the growth of diversity in our schools," Aldredge said.
Raised in Oxen Hill, Maryland, Aldredge was born in South Dakota. "My father was in the U.S. Air Force and we moved around quite a bit," she explained. She now resides in Upper Marlboro, Md.
A graduate of James Madison University with a Bachelor of Arts in Special Education, Aldredge received her Masters Degree from the University of Virginia in School Administration/Supervision. She is presently working on her doctorate, which she started in 2003, in that same specialty.
"I've finished all the course work. Now I'm working on my dissertation research. The focus is the influence of a school superintendent on a school district's culture, she explained.
I've being taking classes so long I feel like it's my second career," she said. But, she does have other interests.
"Naturally, I love reading. And I enjoy music. Although I don't play an instrument, I very much enjoy listening to various types of music," she said.
"I also enjoy being with my family and friends as well as working with my church. It often seems that my hobby is going to school, but actually I love traveling to historic sites," Aldredge stated.
During her time at Garfield, Aldredge taught special education. She spent a year as an Inclusion Specialist in the Special Education area of that school helping students with learning disabilities on both the academic and social levels.
With two brothers and two sisters, all Maryland residents, Aldredge is the only one in her family that has entered the field of education. Based on her recent award and the vote of confidence from her staff and children's parents, she made a wise choice that she obviously enjoys.