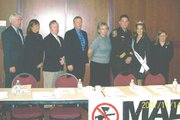 The Loudoun County chapter of Mothers Against Drunk Driving (MADD) kicked off its "Tie One On for Safety" campaign Wednesday, Nov. 14, in an effort to curb holiday drunk driving. MADD is teaming up with the Loudoun County Sheriff's office, local politicians, the Washington Regional Alcohol Program (WRAP) and Greenway officials to help with this effort.
Friday, Nov. 9, was the first night of increased checkpoints, and according to Maj. Don Park of the Loudoun County Sheriff's office, five drunk drivers were arrested. The number of accidents caused by alcohol in Loudoun County have declined slightly over the past three years, but instances of DUI have remained steady.
"Drunk driving is 100 percent preventable," says Susan Cleveland, president of MADD's Loudoun chapter.
One of the initiatives the organization is pushing for is the mandatory use of Alcohol Ignition Interlocks for first-time offenders in Virginia. These devices require the driver to blow into a breathalyzer tube in order to start his/her vehicles. If the blood alcohol content is higher than the preset limit, the vehicle will not start. According to MADD, these devices decrease repeat offenses by up to 90 percent.
ANOTHER METHOD that has been effective in Loudoun County is WRAP's SoberRide program. Starting Dec. 7, any adult in eastern Loudoun County can receive a free, safe and sober ride home by calling 1-800-200-TAXI from 10 p.m. to 6 a.m. Last year, 2,706 people took advantage of this service, meaning that an intoxicated driver was taken off the road approximately every 41 seconds.
Kurt Erickson, the president of WRAP, sees this as an essential service to Loudoun County. "We're losing the fight against drunk driving at the national, state and local levels. Last year 616 drunk drivers were arrested, which is a bigger number than those who voted for Countryside county chairman last week."
Dulles Greenway officials are also doing their part. For the last few years, tollbooth operators have been trained to recognize the signs of someone driving under the influence. Last year, this led to the arrest of 38 drunk drivers.
IN APRIL, MADD honored four members of the Loudoun County Sheriff's Office for their outstanding effort at preventing drunk drivers. Deputy Aaron Taylor was recognized for the third year in a row. He issued 39 DUIs in 2006. Auxiliary members Art Carjaval and William Spath were honored for volunteering at nine sobriety checkpoints throughout the year. The fourth was Auxiliary Coordinator Wil Mills, who participated in 11 checkpoints.
Even with all of these groups working together, the ultimate responsibility lies with the driver. MADD urges people to plan ahead if they know they are going to drink by using designated drivers or other alternatives. More information can be found at www.madd.org, or by calling 1-800-GET-MADD.
"We all need to work together towards a common goal, to stop drunk driving," said Sen. Mark Herring (D-33).