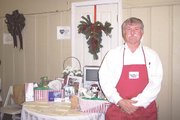 At this year's Loudoun Alternative Gift Fair, one can find a gift for everyone on the list. Unlike another Christmas sweater that is never worn, these gifts will go directly to helping the needy right here in Loudoun County. Instead of toys and gadgets, the fair "sells" donations.
The gift giver donates money to a specific charity, which is then given in the recipient's name. The name and address of each giver will remain private, so no solicitations will be forthcoming.
The gift recipient will receive a notification, as well as a card drawn by local artist Elaine Nunnally. In the last three years, the fair has raised more than $47,000 for Loudoun charities.
"The Alternative Gift Fair is a chance to give back [to the community], simplify Christmas and connect with other people," says Peggy Coleman, a volunteer for the event. "It's important to note that every single penny of donations go directly to the charities, not just a percentage."
A SINGLE AMOUNT can be divided up in any way a gift giver sees fit. For instance, a $100 donation can be divided up as follows: $25 to Blue Ridge Speech & Hearing to help a disadvantaged person get a working hearing aid, $25 to LINK to feed a small family and $50 to La Voz of Loudoun to teach a life-skills class to 20 non-English speakers. There are many other charities and uses for the donations.
Roberta Comrie of Leesburg is impressed with the concept. "They make it so easy to give. I get to write one check and spread it out over as many of these nonprofits as I want."
The fair will take place during the Holidays in Leesburg event, at the Founders Bank Building at the corner of Market Street and King Street. It will be open from 10 a.m. to 8 p.m. on Saturday, Dec. 1, and noon to 5 p.m. on Sunday, Dec. 2.
EVERYONE INVOLVED benefits from the fair. Local charities are able to raise awareness around the county without spending much-needed funds on advertising. The range of charities involved allows the giver to give a gift that reflects the interests of the recipient. For example, an animal lover would be pleased to learn that a donation has been made in his/her name that will allow a homeless animal to be treated by a vet.
In addition to the gifts, the fair will have an appearance by Santa Claus, Christmas carolers, as well as free coffee from Caribou Coffee and homemade cookies. In addition, gifts may be purchased online through Dec. 31, by going to www.saintgabriels.net.
More like this story