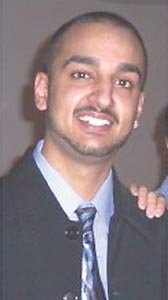 It has been a little over three months since Simran Singh of Burke died on the shoulder of southbound Interstate 395 in Arlington.
The occupants of the car that was carrying the 21-year-old George Mason University student in the early morning hours of Aug. 4 are the only ones who know for sure how the events that lead to his death transpired.
But after reading the autopsy report that was recently released by the State Medical Examiner, Singh's parents feel they have a pretty good idea of what happened.
According to their legal representatives, the report, which has not been released to the media, stated that their son had dozens of severe bruises to his head, neck and torso and was physically restrained and choked for up to five minutes.
But despite this, the Medical Examiner defined Singh's death an accident and no charges have been filed against any of the people who were with Singh when he died.
The issuing of the Medical Examiner's report defining Simran Singh's death an accident has only prompted more questions from Singh's family and the Northern Virginia Sikh community about the case.
Virginia Department of Health representative Lucy Caldwell said that the death was an accident because "Ordinarily, these types of circumstances would not have been fatal." But she said that Singh suffered from two underlying heart conditions that directly contributed to his death.
Neena Singh said that her son had no health problems that she was aware of and that a trip to the doctor less than three months before his death resulted in a clean bill of health. "He would play basketball for hours and hours," she said.
"Everybody is really upset," Singh's mother Neena said. Singh's family was a part of the close-knit Sikh community of Fairfax County and Neena Singh said that her friends and neighbors are up in arms about the incongruity of the situation.
"We get everyday at least 10 to 15 people in our house asking about what is going on… and we have no answers," she said. "We think as parents that we have lost a son, but the community thinks that they have lost a part of their family."
THE CIRCUMSTANCES surrounding Singh's death are murky but his mother brought up several details that she said point to foul play.
On Aug. 4, a little after 1 a.m., Singh was in the car crossing the 14th Street Bridge into Arlington with four other acquaintances when he reportedly became violent. According to a police report, the other occupants of the car tried to restrain him but then noticed that he was not responsive. After the car pulled to the side of the road, Singh was taken by ambulance to Inova Alexandria Hospital where he was pronounced dead at 2:09 a.m.
Neena Singh said that she was first made aware that something was wrong when she received a call shortly after 1 a.m. from one of the occupants of the vehicle.
"He was crying and saying "Mrs. Singh, it is my fault. It was not meant to be,'" she said. "Then the paramedic took the phone from this young man and told me that my son is not breathing and he doesn't have a pulse and we are taking him to the hospital. I told my husband 'Can you pinch me' because I thought I was seeing a dream."
Things only became more difficult for the Singh family after that. They were not allowed to see their son's body until five days after his death, which gave them "the slight hope that someone would knock on the door and it would be my son," Neena Singh said.
She also said that, in the months since the incident, Arlington County Police have done a poor job of keeping her family abreast of developments in the case.
"Instead of police officers calling us, we kept leaving messages with them," she said. "Then they would call after two, three days. I'm really not happy with the Police Department."
Shortly after the Medical Examiner's report came out, the Sikh American Legal Defense Fund or SALDEF, a national Sikh advocacy group based out of Washington D.C., came out with a statement accusing the Arlington County Police Department of engaging in "a series of questionable practices" that they consider to be "police misconduct."
"There is concern with a lot of the facts … that were around the incident that the parents have deemed incorrect and have been trying to tell the police," said Rajbir Datta, the head of SALDEF who has been in close contact with Singh's family since his death. "Everyone's on their toes because no one knows what Police Department will do."
JOHN LISLE, a spokesperson for the Arlington Police, took umbrage with SALDEF's claims of police misconduct.
"As far as some of the allegations," he said, "we view them as inflammatory and really irresponsible … . We've talked to everybody involved and tried to figure out what happened here … . I don't think there's any basis for them to make these claims."
Lisle said that when the Arlington Police Department concludes its investigation, which he expects will be by the end of the month, it will take the case to the Commonwealth's Attorney who will then decide whether charges should be filed. An official with the Commonwealth's Attorney said that they cannot comment on the case since it has not reached their office yet.
For Neena Singh, the day cannot come soon enough when the police finally explain how her son, an ostensibly healthy 21-year-old with a loving family and a bright future, died.
"I never even thought that somebody would kill my son," she said. "But that is the question we are looking at. That is a question that I will look at as long as I am alive: Why did they do this horrible thing to my son?"