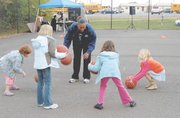 More than 200 area girls and boys attended the pilot event for a nation-wide campaign promoting bone health in girls aged 9 to 12. Herndon Middle School was a site of a variety of activities on Sunday afternoon, Nov. 11, including a rock-climbing wall, soccer, basketball and the Dance Dance Revolution video game.
The "Powerful Bones. Powerful Girls." campaign is a joint effort of the Department of Health and Human Services' Office on Women's Health, the Centers for Disease Control and Prevention and the National Osteoporosis Foundation. The campaign's goal is to educate and encourage girls to develop habits of increased calcium consumption and weight-bearing physical activity.
"It's encouraging to see so many girls" participate, said Erin Gaston, who spent the Sunday afternoon teaching the participants basketball skills. Gaston is a basketball assistant coach at Herndon High School and a former player at Towson University. "I didn't have something like this growing up. It's just different from when I was a kid," she said.
According to the Office on Women's Health, women are four times more likely to develop osteoporosis than men. Peak bone mass is achieved by the age of 18. Girls aged 9 to 18 need 1,300 milligrams — 130 percent of daily value — of calcium each day.
While Gaston conducted basketball lessons, the Dance Dance Revolution corner of the outdoor court attracted commotion from girls looking to display their dance skills. Herndon Middle School and Herndon High School girls competed against each other to win the video game's dancing challenges. Eighth grader and Herndon Middle School step team captain Izaba Sarabi claimed the techno dancing honors.
The event offered more than physical activities for the participants. There was also a food education seminar inside the building. Valerie Knowles, a third grader from Sterling, said she saw chefs making small size pizzas in the school's cafeteria. "I learned about healthy food and calcium," she said after dismounting the rock-climbing wall.
Michael Lilly, a participant volunteering as event staff, said Herndon was chosen for the pilot event because it is similar to communities throughout the nation. Although the campaign targets girls, it also encourages parents to learn about importance of bone health. More information about the campaign is available at the following Web sites: www.cdc.gov/powerfulbones for girls and www.cdc.gov/powerfulbones/parents for the parents.