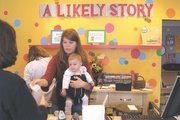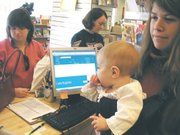 The crush of business in difficult times. The demands of a growing family. Meeting payroll. Stocking inventory. Facing fierce competition. Making that difficult decision to call it quits.
You could say it was a likely story that Dina Paul decided to close shop last week. Faced with competition from the big-box chain stores and the increased family demands after the birth of her daughter earlier this year, Paul's store on Upper King Street was crowded with loyal customers on her last day of business last week. They came to say goodbye and grab that last storybook — a memento of sorts from a one-of-a-kind business that offered more than a store with a few books.
"Dina has the best storytime in town as far as we're concerned," said Jennifer Saleh, an Alexandria resident who was shopping at A Likely Story Bookstore last week, shortly before its doors closed forever. "She's so animated and compassionate. She really engages the kids, unlike some of the other storytimes in libraries or other bookstores."
For 23 years, the bookstore with the clever name has been a staple of Upper King Street commerce. Earlier this year it was the scene of a St. Patrick's Day fundraising event for the St. Baldrick's Foundation in which City Councilman Rob Krupicka and Del. David Englin (D-45) shaved their locks to benefit cancer research. Countless children have attended birthday parties there, and the store was a frequent spot for parents with young children to escape the home.
"I always felt like this store had a better selection, and the people who worked here knew a lot more about the inventory," said Lisa Johnson after making her final purchase. "The store's closing is sad because my children have come to storytime here and celebrated their birthday here. So it feels like the page is turning on that."
THE STORE which opened 23 years ago was started by Marilyn Duggan, who retired a few years ago. Paul took over the store hoping to have the kind of place where parents would come from all over the region to have the kind of service customers can only receive from an independent bookstore with a passion for the products they sell. This is exactly what they found at A Likely Story, and Paul's commitment to the store's mission created mixed emotions last week as she prepared to close the doors.
"In a way I feel like I'm disappointing the people who have supported me over the years," said Paul as tears welled up in her eyes. "This was a dream of mine."
Paul said that her decision was partially fueled by the birth of her daughter Sabrina, who was strapped to the owner's chest as she sold the final books in her inventory. But more than the growing demands of her family life, Paul said, the decision to close the store was forced by the downturn in the market and the increasing business competition the store was facing from big-box retailers such as Borders, Books-a-Million and Barnes and Noble.
"It was a hard decision, but I had to do what was right for my business and for my family," said Paul. "It was more of a business decision than it was a family decision."