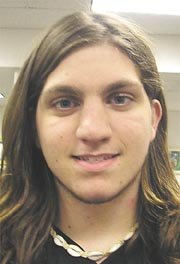 A native of Alexandria, Kit Conner is the student director for the T.C. Williams production of "Romeo and Juliet." Tickets for the show are $7 for adults and $5 for senior citizens. Show dates are Nov. 29, Nov. 30 and Dec. 1 at 7:30 p.m. For more information, call 703-824-6800.
<b>How did you get involved with the theater?</b>
I've always loved acting. My first real role was at West Potomac as a sleazy salesman my freshman year.
<b>What do you like about the stage?</b>
I like how this stage has an opening proscenium curtain.
<b>How do you feel about the new T.C. Williams?</b>
At first, I didn't like it. But it grows on you. I miss the old building though.
<b>What is the theater like in the new building?</b>
The theater is nice. I liked the old one more because it felt more like a home, even though it was a high school auditorium.
<b>What do you plan to do after you graduate?</b>
After I graduate I want to go to collage and major in Outdoor Leadership. I also want to be a sailor in the World Cup.
<b>What kind of a profession do you see yourself in?</b>
I want to be an adventurer of sorts. I really, really don't want a desk job — definitely something outside.
<b>What's the best book you've read in the last year?</b>
The best book I've read during this past year was "The Kite Runner." That book is amazing.
<b>What's your favorite movie?</b>
My favorite movie is "Master and Commander."
<b>What are you personal goals?</b>
I'm the T.C. Williams Ice Hockey goalie, and a personal goal for me is to get a shut out at least one of our games.