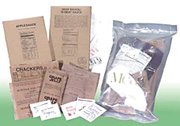 The holiday season is the time of year when people tend to have visions of sugarplums. But, for a growing number of people, it's also a time to think about pandemic flu, disastrous flooding or a terrorist attack. For an increasing number of shoppers, disaster preparedness items are the gifts that keep on giving — especially if a shelter-in-place scenario were to unfold. They might not have the flash of a flat-screen television or the sizzle of this year's hottest toy, but the gift of catastrophic readiness is increasingly becoming a kind of Washington institution — one that recognizes the threat level of living near the capital city in a post 9/11 environment.
"It kind of solves that age-old problem of what you get someone that had everything," said Mark Penn, emergency management coordinator for the city of Alexandria. "The more people are prepared, the better it is for us."
Experts in disaster preparedness say that having certain supplies will be essential in the case of a terrorist attack, yet studies show that most people have not taken the time to assemble these items for themselves. According to the Red Cross, families should be prepared to shelter-in-place for at least 72 hours — a plan that's easier said than done. Officials with the Red Cross suggest compiling a kit that includes water, food, a flashlight, a first-aid kit, a battery-operated radio, tools, sanitary supplies and pet supplies. Dawn Matterness, director of Emergency Services for the Alexandria Red Cross, said that radios, first-aid kits and pet first-aid kits make perfect gifts. Last year, for example, she gave emergency radios to several family members.
"They loved it because it isn't something they think of for themselves," said Matterness, adding that infant first-aid training makes a perfect baby shower gift. "And I have the peace of mind that they are taken care of."
PREPARING A KIT can be a time consuming task, but one local nonprofit organization has taken the hassle out of preparing to shelter in place for 72 hours. Alexandria-based Cope International-USA sells a wide variety of emergency-preparedness products at wholesale cost from its Web site at copeusa.org — everything from military-style ready-to-eat meals to hand-crank flashlights and radios. But one of its big holiday sellers is 72-hour kits, available at $36 models for individuals and $160 packages for a family of four. The 72-hour kits include pouches of water, food bars, thermal blankets, light sticks, flashlights, whistles and playing cards.
"Right after the terrorist attack in 2001, there was a whole lot of junk on the market," said Joe Pallone, president of Cope International-USA. "And it sold by the millions."
Pallone said that much of the disaster-preparedness equipment that flooded the market in the wake of 9/11 was ill-conceived and poorly constructed, marketed more toward people's fears and insecurities than giving them the tools they might need in the event of a disaster. It was during this time that Pallone recognized he could take the principles his nonprofit organization was implementing overseas and apply them in the United States, where homeland security was increasingly becoming an area of interest. Founded in 1999, Cope International-USA works with developing democracies to build locally-owned and operated capabilities that create jobs and address genuine needs.
"Like everybody else in this area, when 9/11 hit I tried to figure out what I was going to do," he said. "And I realized I had no idea what I was going to do."
A NATIVE OF Long Branch, N.J., Pallone was an Army captain serving in Turkey when the idea for his nonprofit organization crystallized in his imagination. The year was 1991, and although Saddam Hussein's army had been expelled from Kuwait, the Kurds in the northern section of Iraq feared retribution. As the war drew to a close, refugee Kurds flooded southeastern Turkey creating a humanitarian crisis of epic proportions. Well-meaning individuals began sending supplies, but a lack of coordination marred the effort and made parts of the recovery more difficult. One European group sent 10 metric tons of potatoes, but Kurdish culture does not include the use of potatoes.
"Even if the Kurds wanted to eat them, there was no way to cook them — and you can't eat a raw potato," said Pallone. "Another group sent tents, but what these people needed was water."
There in southeastern Turkey — standing on 10 metric tons of potatoes — Pallone had a life-changing moment. He began thinking about a way to coordinate relief efforts in a way that maximized the usefulness of air assets, materials and manpower. In 1993, he took a job working for the Senate Armed Services Committee and began making contacts. By 1999, he was ready to launch the nonprofit — which does work from Ethiopia to Yemen. But it was the terrorist attacks of 2001 that expanded his organization's operations into the United States.
"I realized that a lot of the things we were doing overseas could be done here in the U.S.," said Pallone. "
WITH THE HOLIDAYS approaching, Pallone said that his Web site receives many hits from people who want to give emergency preparedness items as gifts. Because the items are purchased by a nonprofit in bulk, many of them are much cheaper items found in retail outlets that depend on a profit-motive to stay in business. As a result, the products on Alexandria-based copeusa.org are perfect for the holiday shopper on a budget. Take, for example the "Meals, Ready to Eat" known in military parlance as MREs. The Web site offers a case of 12 complete MREs for $61.45 — with discounts on bulk orders.
"Our MREs are stupidly low in price," said Pallone. "I would rather get a case of MREs as a present than a fruitcake."
The MREs come with six different menus per case, with each meal containing 1,300 calories — sufficient for one adult per day. They are truly ready to eat, needing nothing more than the spoon that's included. They can be eaten at room temperature or warmed by immersing the pouch in warm water. They can also be heated with flameless radiation heaters, with a set of 12 available for $5.50 extra per case. Other seasonal favorites are the water-purification bottle ($24.95), the hand-crank flashlight ($19.99), the hand-crank radio ($39.99), the pet first-aid kit ($22.95), the four-in-one utility tool designed to shut off gas and water utilities ($16.95) and 200-tablet bottles of Potassium Iodide ($24.95), for those on your list who are concerned about incurring radiation after a "dirty nuke" incident. Pallone also recommends one item not available on copeusa.org.
"Curl up with a copy of 'The Great Influenza' by John Barry and try to imagine what a lethal pandemic or large-scale emergency would look like in our area," he said. "Get a copy of the book for anyone you care about and wrap it up with a 72-hour kit as a present."
PALLONE SAID THAT one mistake people make is to store their emergency kits indefinitely, with batteries that have gone dead and water that has expired. While most bottled water has a six-month expiration date, pouches of emergency drinking water (available at $21.76 per case) have a five-year shelf life. And that radio in your basement won't work with batteries that have been sitting around for years — although he was quick to point out that a hand-crank radio would work in any situation. When time-sensitive items are about to expire, Pallone does not recommend tossing them in the trash.
"Have a party," he said with a grin. "It will show you how to use the stuff, and you might realize that it would be a good idea to keep a jar of peanut butter in your kit to go with the crackers."