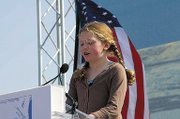 When 9-year-old Mollie Passacantando found out in mid-summer that she was one of 12 children from around the world to be named an International Young Eco Hero, she had already spoken at an unrelated rally in Washington, D.C. about her efforts to save the polar bear species. Her prize package from Action for Nature, the San Francisco-based nonprofit organization that selected the Eco Heroes, arrived in September, and for the next two months, an exhibit featuring the winners will be on display at Crissy Field in San Francisco's historic Presidio.
However, Mollie's crusade had a humbler beginning. In early February, she and her third-grade classmates at Stratford Landing Elementary read in a weekly children's version of Time magazine about the danger to polar bears caused by global warming and melting icecaps. Her friend decided to take action and began taping index cards to rulers. On the index cards, they wrote, "Stop global warming. Save the polar bears," and six or eight of them marched around the schoolyard with the makeshift signs, said Mollie.
She recalled that a classmate "came up and said, 'You can march around the playground all you want, but you're not going to do anything.'" Another recommended demonstrating at a car dealership to stop global warming.
That evening, she told her parents about the affair. "I talked about it with my parents — how I could reach more people and who else was doing things to help the polar bears," she said.
"I try not to bring home my work a lot, but I'm an environmentalist," said her father, John Passacantando, who is the executive director of Greenpeace USA. He mentioned to his daughter that Greenpeace happened to be engaged in a lawsuit to push the U.S. Fish and Wildlife Service to add polar bears to the endangered species list. "I said, 'We need a lot of voices if we're going to be heard,'" he recounted. The two "stumbled through" the creation of a blog, he said.
IN MOLLIE'S FIRST blog entry, dated Feb. 10, she writes that seals, as well as polar bears, are endangered by the disappearance of the arctic icecap. Her entry from the next day includes an e-mail address for the Fish and Wildlife Services and entreats readers, "You can help by letting them know that they should list polar bears as an endangered species!" It was not until March 13, several entries later, that she began asking her readers to send their letters through her, so that she would have something to show when speaking at the Climate Crisis Day of Action rally a week later.
The executive director of Alaska Wilderness League, the lead organization for the rally, had received Mollie's request for public outcry, which by then was circulating on the Web.
"There were 16-year-olds there, but I was the youngest," Mollie said of the rally, where she was part of a youth panel. She was 8 at the time. She stood on a box to look over the podium, from which she told the crowd of about 1,000 about her own efforts to protect polar bears, and she read from one of the letters she had received. "I was pretty nervous," she said. "But when I got up there, I saw everyone I knew, and my uncle had come to see me, and they were all right there in the front row, and then I felt a lot less nervous."
Between March 13 and the April 8 deadline for public comment on the polar bears' endangered status, Mollie collected 171 letters, which she sent overnight to the Fish and Wildlife Services branch in Alaska. The organization will make its decision on classifying the polar bear in December.
Not long after the letters had been sent, Action for Nature contacted Mollie, asking her to apply for their Young Eco Heroes award. "I really don't know how they heard about her," said Mollie's mother, Lisa Guide. "At that time, her request [for letters to Fish and Wildlife Services] was viral among people who work for the environment," she said, noting that letters were coming from places where it had spread all over the country. Mollie's speech at the D.C. rally had also attracted some media attention.
"We look for young people who have done something for the environment of their own initiative," said Beryl Kay, president of Action for Nature. In keeping with the organization's name, Kay said that, although a couple of this year's winners submitted research-oriented projects, "we look particularly for people who speak out and educate others."
SHE NOTED THAT Mollie had created a tool to put pressure on the government and had given a speech. "So she speaks out and tries to spread the word to others as to what can be done." Kay said the contest judges also look for people who have overcome adversity, such as fear of public speaking, to achieve their goal.
Action for Nature has targeted children for a few reasons, she said, one being that many children today "seem almost alienated from nature." Also, she said, winning such an award can make children role models to their peers, "and we think it's important for them to have role models in their own age group." Finally, she said, the efforts of today's adults are "kind of useless" if the young are not interested in carrying them into the future.
Mollie's prize package included a certificate, $250 and membership to Roots and Shoots, the Jane Goodall Institute's youth action program. She put the money into a bank account. "She went through this whole tear about what environmental groups she could send the money to, and I had to suffer a barrage of questions about overhead and 'What can $250 do?'" laughed John Passacantando. "It was like talking to a foundation officer."
Mollie credits her classmates, Laura Powell and Grace Kennedy, with igniting her concern for the polar bears' fate and her parents with showing her that she "could do something about it."
For the time being, soccer, swimming, Girl Scouts and piano lessons have retaken the forefront in her life. Asked if she might follow in her father's footsteps and continue to fight for the environment, Mollie acknowledged, "It's really fun to know that you're doing something for the world to make it a better place," but added that she is also interested in astronomy.
Nonetheless, her last blog entry, posted over the summer, requests information on the mysterious disappearance of honeybees in North America. "I would like to do something to help the honeybees, but I don't know what to do if I don't know why they're disappearing," she said.