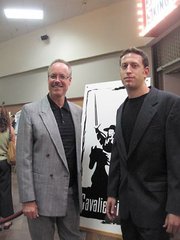 A little more than two years ago, Diane Naughton and her husband were reading through a local newspaper when they noticed a business story with a photo of "The Station Agent," one of their favorite independent films.
The accompanying news story went on to describe a new kind of local film trust called Cavalier Films. A production group is designed to produce movies like "The Station Agent" using a partnership of investors, pooling together money to fund the small-budget film. Right away, the idea intrigued Naughton and her husband, both film buffs with an eye for great filmmaking.
"My husband and I both loved movies, and I've done some writing myself in the past," she said. "So it seemed very interesting to invest in something and at the same time get an inside look at the filmmaking business."
Naughton never imagined the extent of the involvement she would eventually have in the process.
After putting forth their investment, the stay-at-home mother from Oakton quickly became available to sit with the writer of a new independent film to give notes on the script, set up an informal script-reading and volunteered as an organizer during production.
"It was an adventure, it really was," she said. "It was the kind of thing where I had to stop and think, 'Am I really doing this? Am I really on a movie set right now?'"
PROVIDING EXPERIENCES for the region's film aficionados is what Cavalier Films is all about, according to company co-founder and president Barry Sisson.
Sisson, a Fairfax resident who came to the film industry after more than 25 years as an electronic security business owner, got his first taste of movie production as an investor on the highly-decorated independent film "The Station Agent." After meeting up with co-owner and Fairfax resident Mark Lieberman on another production, the two planned and founded Cavalier Films as a way of making the dream of participating in filmmaking a reality.
"For me, getting involved in films was the fulfillment of a dream … and I always felt sort of unsettled doing anything else," Sisson said, "and getting more people incorporated in it just helps to share that experience."
After finding nearly 50 people like Naughton and her husband to invest in their film partnership fund, Cavalier Films began work on putting that dream to film. The production company recently wrapped shooting on its first feature-length production, the Staunton, Va.-filmed "Familiar Strangers" earlier this year and has moved into the film festival entrance process.
THE BUSINESS model for the production company features investors making three-year, $25,000 minimal commitments to a film fund for specific film projects budgeted less than $1.5 million apiece. After production, Cavalier Films looks to sell the distribution rights to studios, cable television and other potential venues, providing investors with a return.
Committed to producing films within Virginia that rely on talent and great story-telling rather than special effects or big-name actors, the company is committed to not just high-level artistic quality, but financial opportunity.
While an interesting and diverse investment, a partnership in Cavalier Films should be more from passion than future financial security, Sisson said.
"What I tell people is that this isn't the money you put in for your child's college fund," he said. "This is that 5 percent, high-risk part of your portfolio that is more about fun."
Given more time, the company looks to bring in a larger number of investors through advertisement and presentations at regional cinemas — like one they had Oct. 2 at Cinema Arts Theatre in Fairfax. After enough investors are involved, the company looks to have a number of different film production projects on the horizon, Sisson said.
"Just like any portfolio, diversity means a wider possibility of success," he said. "The more films we have out there, the more possibilities there are and the more stories we get to share with the world."
FOR INVESTORS, the only thing that is needed is a desire to be involved in the production of great films. The level of that involvement ranges from one person to the other, Sisson said.
"We want our investors to be as involved as they want to be … as long as it doesn't stand in the way of the art or financial viability of the film," he said. "The film is going to be made either way, but the involvement is up to you."
More than anything, an investment in Cavalier Films is a chance for those who have always dreamed of a stake in film production to get their shot at being part of the magic of movies, Sisson added.
"The fund provides people like myself access to the production of a film," he said. "And it's because of this participation that the film just becomes so much better."
For investor Karle Stewart, a former corporate housing owner who was first introduced to Cavalier Films in 2005, the involvement was a life-changing experience. After working as a crew member on the set of "Familiar Strangers," Stewart and another crew worker have begun planning their own film production.
"When I first came on, at that point I was fed up after 11 years in [real estate ownership] and this was my new step," he said. "It's really an amazing experience and I owe so much to [Cavalier Films]."