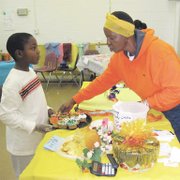 This year the organizers of SterlingFest are hoping the weather gods smile down on the Sterling Community Center Saturday, Oct. 6. For the past two years, visitors to the annual event have needed umbrellas instead of sunglasses.
Despite past history, the Sterling Foundation is pushing ahead to make the 20th anniversary of SterlingFest memorable.
"What we anticipated for this year [as far as vendors and organizations participating], we exceeded our targets," said Keleigh Taylor, manager of the Sterling Community Center. "Bring sunscreen. There will be no rain."
The event features arts and crafts, booths for various vendors and nonprofit organizations, a kids marketplace where children sell homemade goods, children's rides, food vendors and live entertainment.
While not a fund-raiser in the traditional sense, revenue generated by the booth rentals is divided among the Sterling Foundation, the Sterling Playmakers and the community center's advisor board, said Taylor.
"All the funds go back into the community," she said.
There is no entrance fee, however the vendors charge for goods, refreshments and the rides.
ENTERTAINMENT INCLUDES live music, family friendly shows and a variety show from the Sterling Playmakers. New to the festival this year is the band One Horse Town from western Loudoun.
Taylor said organizers also tried to mix it up a bit with the food offerings. New restaurant Mexican Garden, as well as the Greek Orthodox Church of Leesburg and Joe's Pizzeria are among those providing variety to the typical festival fare.
"There's a more diverse food palette this year," Taylor said.
There will also be more than 40 nonprofits and other booths for visitors to peruse.
In addition, several other events are also taking place Saturday including the Knights of Columbus annual parade, the library book sale and an open house at the fire station.
"There's a lot of events going on that day," Taylor said. "You can come out and spend the entire day."
Sunday, Oct. 7, will serve as the rain date for SterlingFest, just in case the weather gods didn't get the memo.