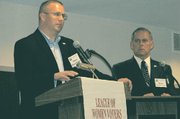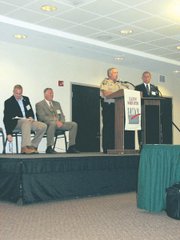 The three candidates for Sheriff faced off in a debate Tuesday, Sept. 25, hosted by the League of Women Voters.
Republican candidate Greg Ahlemann said the No. 1 issue in the sheriff's race is immigration, especially in the Sterling Park Area.
Ahlemann, a former Sheriff's Office deputy, said he policed Sterling Park since 1997 and has noticed a huge influx of Hispanics in the area and an increase in gang activity.
"Illegal immigrants are more likely to commit crime," he said.
Sheriff Steve Simpson said only one in 20 gang members in Loudoun County is an illegal immigrant.
"It's wrong to assume that everyone who's in Sterling is first of all illegal and second of all gang members because that's just not true," he said.
Simpson, who is seeking re-election as an Independent, said there are a number of issues that need to be addressed in that neighborhood, such as housing and zoning issues, that are out of the sheriff's hands.
"It's looking at a multipronged approach with everyone working together," he said.
Democratic candidate Mike George, a former narcotics and organized crime detective who helped create Fairfax County's gang intelligence unit in the mid-1990s, cautioned Ahlemann.
"There's crime in every culture, in every race," George said. "We need to target a crime, we don't need to target a culture."
IN AN EFFORT to move away from illegal immigration and on to different topics, the candidates discussed the new jail in Leesburg.
George pointed out the new jail is already overcrowded and the expansion next year's budget calls for is "needed."
Simpson said he began asking for a new jail in 1996 and should be in phase two of the process right now.
When it was Ahlemann's turn to speak, he brought the focus back to the ICE program and illegal immigration.
Ahlemann said that School Board member J. Warren Geurin (Sterling) told him 4,000 students in Sterling schools do not speak English in their homes.
"There's a connection between the two," he said.
Ahlemann said he couldn't say whether all 4,000 students were illegal, but he said 100 students might be. By cracking down on illegal immigration, and deporting illegal immigrants and their families, the county could save money by not having to educate those students.
"There's your money for the jail," he said.
George reminded Ahlemann its federal law to educate every child in the county.
"Any kid has the right to an education," he said. "That's the law."
LAURE VALLE, president of La Voz, an advocacy group for immigrants, asked the candidates whether they would be willing to work with community-based organizations, such as La Voz, to improve the relationship between the Sheriff's Office and immigrant population.
Both George and Simpson agreed, a working relationship would be beneficial to the Sheriff's Office, as well as the immigrant population.
Ahlemann said he empathized with the illegal immigrant.
"If I couldn't afford to feed [my family], I'd probably come here illegally," he said. "I would try to stay under the radar so I wouldn't risk being deported."
IN CLOSING STATEMENTS, Ahlemann attacked Simpson for running as an Independent. Ahlemann said Simpson signed the Republican pledge to back whichever candidate was nominated at the convention in June.
"He somehow had a problem keeping his word," Ahlemann said.
Simpson said he could not endorse a candidate with as little experience as Ahlemann has and there were a lot of comments made over the course of Ahlemann's campaign that were simply "not true," he said.
"It's very easy to twist things around during an election," Simpson said. "You've got to be able to trust the words coming out of a sheriff's mouth as gospel."