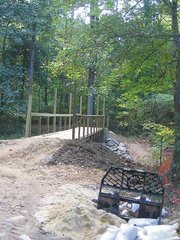 When Verizon came to the Clifton Town Council earlier this year with a proposal to bring their FiOS service through town, the company promised to help underground utility wires and to make the new technology available to anyone who wanted it.
"When we worked with those guys before, they got through the town, they couldn't be more helpful," said Clifton Mayor Tom Peterson during Tuesday night's Town Council meeting. "Once they had their contract and put the wires in, they dropped us."
Verizon, according to Peterson and council member Mike Anton, has not come through on their part of the deal.
"I cannot get FiOS Internet at my house," Anton said. "They promised us 100 percent coverage. It took three months to get phone service at our house, but now we're told we can't get the television service."
Anton said he spoke with a Verizon representative at the Springfield Mall recently and was told the problem was with the town, not Verizon. When he called a customer service line and told that representative the town had signed a contract with Verizon earlier this year for service, the representative couldn't explain why service wasn't available.
"This is all a bunch of B.S.," said council member Wayne Nickum.
Comparing themselves to a jilted lover, the council is considering their legal options against Verizon.
"I feel used," Peterson said. "I didn't think I'd ever say this, but I'll never use Verizon because of how we've been treated. This is a big corporation that's used a little town and then dumped us once they got what they wanted."
Part of the contract included putting cables from several existing power lines owned by Verizon underground, Anton said, but now Verizon is claiming that work will cost an additional $53,000.
After talking with two friends in the construction business and representatives from the Virginia Department of Transportation, Anton said the council might be able to use funds set aside for beautification projects on Main Street to pay for that work.
Resident Judy McNamara told the council to contact the Virginia State Corporations Commission about their situation.
"I've called them before with phone problems and won as a citizen," she said.
The incorporation of the Clifton Business Coalition as a new committee within the town was also discussed at the meeting. Ten members, dressed in matching neon green shirts, told the council about their plans for activities throughout the year, beginning with a scarecrow decorating contest during the Haunted Trail later this month. Other plans include a series of holiday-themed events on Wednesdays leading up to Christmas, which may include horse-drawn carriage rides, carol sing-a-longs, bonfires, wreath sales and gift-wrapping services.