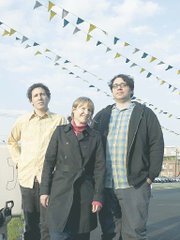 Yo La Tengo are huge baseball fans and it shows. The indie rock icons from Hoboken, N.J. love throwing curveballs at their fans.
The band, whose name means "I've got it" in Spanish and comes from a phrase heard in the New York Mets outfield in the 1960s, frequently alternate from epic guitar freak-outs to near-catatonic folk ballads, all in the space of one record.
So it shouldn't be surprising that, fresh on the heels of "I Am Not Afraid Of You And I Will Beat Your Ass," one of their loudest releases in years, Yo La Tengo is now on a stripped-down, back-to-basics tour.
The tour, which is coming to Alexandria's Birchmere Music Hall later this month, is being called the Freewheeling Yo La Tengo tour and it is being billed on their Web site as "A little bit 'Storytellers,' a little bit 'Unplugged,' […] it will feature the band playing an almost-acoustic set of songs from their entire catalog, with stories about their life as a band, and an encouraged back-and-forth with the audience."
In an interview with the Arlington Connection, Yo La Tengo singer and guitarist Ira Kaplan talked about what to expect from the tour, how the band goes about making music and what life is like after the recent collapse of his beloved Mets.
Arlington Connection: How is this tour different from all your other tours?
Ira Kaplan: We'll see. It's funny. The tour is being kind of pitched out there as being informal. It always feels odd to me to describe precisely just how informal we're going to be. Nevertheless, I know that we've been doing a little preparing for it, just calling [out] songs and playing them in a format we don't usually play that often… We're kind of expecting to take advantage of the lower volume to chat a little more. I think a lot of that will just take shape organically. Hopefully it will be different. If we find ourselves settling into rote introductions of songs I don't think anyone would be happy about that.
AC: Yeah, because I remember I saw you guys a few years ago and it was already pretty informal and you guys were already interacting with the audience a lot.
IK: I'm happy to hear you say that because I feel that way too. It's been funny kind of coming up with the show and describing it. We're just going to take elements that tend to be there at our shows anyway and just emphasize things that are there but not emphasized. It should be pretty different, ultimately, with the lack of electric guitar and keyboards.
AC: Speaking of electric guitar, your newest album is probably one of the most psychedelic albums in your catalog. Are you guys moving towards a more spacey, 60's influenced sound or was that just unique to this album?
IK: We'll know when the next record is done. It's not something that we would ever try to articulate to ourselves let alone anyone else. We just try to do what seems right at the moment.
AC: Were you guys going for that on this record? That sort of sound?
IK: I don't know. There are things on the record that are surprises to us until we do them… I think what was conscious on this record was that we were more interested in following through on some of the genre aspects of this record. On previous records we might have heard a soul aspect and then felt "Ok now let's counterbalance that with something from another style. Let's make it more of a mixture." On this record we were thinking "Well why don't we follow through on that."[…] This is the kind of information you might be gleaning in our shows.
AC: Is there any place in [the D.C.] area that you like to go to [when on tour here]?
IK: I don't miss too much about the old 9:30 club. I like the new one so much. But the proximity to the Smithsonian was great. The Hirschorn was probably a favorite destination. That and Ben's Chili Bowl. That's not at the new 9:30, which is not to say it doesn't have its amenities.
AC: What do you think about the current state of the music business with digital file sharing and that whole thing? What will future YLT releases look like?
IK: I don't know. I don't think about it that much. I think we're not particularly cutting edge, technologically. I don't know what we'll do and how we'll react. We're still making records and we have this illusion that people will listen to them start to finish. But… those things are always changing. I think the option of not listening to records has been there for a long time.
AC: What do you think of the local music scene? Are there any bands in the DC area that stand out to you?
IK: I don't think there are. I'm very cut off from current music. If you can hear in the background I'm listening to an old soul reissue that I got yesterday. I don't keep up with modern music as much as I did when I was younger.
AC: But you guys are really scholars of pop music and you are big record collectors. So what are your favorite bands to have come out of the DC area?
IK: Half Japanese would be high on the list. Number one.
AC: You guys collaborated with them, right?
IK: We've worked with all of them. A couple years ago, I know they just played down in D.C. again with the original lineup. The first time they did that in years was at one of our Chanukah shows. We invited them, Jad and David [Fair, leaders of the group], to do something and they showed up with almost everyone from the "loud" era of the group except one person. And then they asked the three of us to join them as well. I think there was something like 11 people on stage. It was total delirious cacophony from Half Japanese. It was so exciting to be a part of that.
AC: Were you ever into any of those Dischord [Records] bands back in the day?
IK: Not a huge amount, I have to confess. I'm sure [bassist] James [McNew] was far more than I was… A lot of my musical decisions are particularly indefensible but that's what they are nonetheless.
AC: How is the band dealing with the recent Mets collapse? How is that going to affect this tour?
IK: Well we are playing in Philadelphia but if current trends continue they may be in our camp by then. (Note: This interview was conducted on Friday, Oct. 5) I mean, of course I'm disappointed… it was frustrating although I am enjoying the free time. We have a couple of songs in "I'm Not There," the movie that Todd Haynes made about Bob Dylan, and it premiered at the New York Film Festival last night and it was great to not have that "Oh, but I'm dying to know what's going on in the baseball game" [feeling]… There is a certain freedom that comes with not living and dying with it, I guess because I've already died.
AC: It's sort of almost indicative of the entire New York sports scene at this point, what with the whole Isaiah [Thomas] trial.
IK: Yeah, it's pretty much a golden age.
AC: So finally, and this is for my own particular curiosity, but what is your favorite Velvet [Underground] song?
IK: I would never approach things like that. That's one of the things that's so amazing about them that the same band that did "Sister Ray" did "Here She Comes Now" on the same record. I just love that. Not only that, but just the way they would approach their own songs so differently. I heard this bootleg version of this incredible medley of "Train Round the Bend" and "Oh! Sweet Nuthin" with neither song sounding like it does on "Loaded." It was this completely fresh and original take on the songs. The idea of a song being the best kind of calcifies it in a way and they never treated their material that way. That's one of the things I loved about them.
More like this story