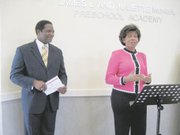 Six days after the new Hopkins House Child and Family Learning Center opened its doors, its preschool was dedicated to two former Mount Vernon-area residents last Saturday.
James and Juliette McNeil were the primary donors for the 8,000-square-foot learning center, which is located off Richmond Highway in the Engleside area, and its preschool is now officially the James and Juliette McNeil Preschool Academy.
Hopkins House was founded in 1939 and has its original location in Old Town. Like the Alexandria site, the new center will also offer programs for adults and older children, and the preschool academy includes facilities for infants and toddlers.
However, Hopkins House President J. Glenn Hopkins – no relation to the eponymous Dr. Milton Hopkins – emphasized that the center is not a daycare but is educationally oriented at all levels. "By the time kids go through our academy, they're absolutely ready for kindergarten," he said. "Low-income kids often aren't."
Subsidized by donations and generous with scholarships, the school is intended to offer an option for low-income families, although any children can attend.
"Just the wonderful work that they're doing is so important," said Juliette McNeil, noting that the center's work with adults and older children, as well as its preschool, would make it "a great asset for this community."
Kicking off a series of short speeches, Hopkins House Board of Trustees Chairman Bob Bogan, noted that the McNeils had helped to make possible a project that has now been in the works for over six years. "Every time we get down low, [God] sends us an angel," he said. "This time, he sent two."
Bogan added that the project still was not completed. "We're so proud we can't even see straight, but we still have a lot to do," he said.
Hopkins told the 40 or so people assembled that Hopkins House had needed to move south to follow "the communities we've historically dealt with." As home prices have risen in the city of Alexandria, many lower-income families have moved into the Mount Vernon area.
HE REMEMBERED when Juliette McNeil discovered Hopkins House two years ago. "All we had to do was introduce the McNeils to the children, and that was it," he said. "It's not just about money. It's about heart, and this couple gives from the heart."
Dawn Hunt, who lives in the area and has a child who just began to attend the preschool, said a few words about the quality of the facility. "Everywhere I go, I'm telling everybody about it," she said. As a mother of four, said Hunt, "I've dealt with enough preschools to know this is an outstanding facility."
Juliette McNeil's sister, Emma Mosley Brown, traveled from Rome, Ga. with her husband to make an appearance at the dedication, where she said the McNeils "allow the Lord to flow through them."
"James and I are overwhelmed with joy that the Board of Trustees granted us this honor," said Juliette McNeil, noting that she and her husband had never expected anything in return. She said it was "beyond belief" that the preschool academy would be named after them. Highlighting one reason she and her husband supported the center, she said that children who attend preschool "are more likely to achieve their intellectual, economic and social potential."
She thanked those present for their support and invited others to join the effort, noting that the facility still needed support, most immediately for math and science after-school programs and for scholarships.
Juliette McNeil, a Hopkins House trustee, retired from the Environmental Protection Agency as director of financial management. James McNeil, a member of the Hopkins House Chairman's Council, owns and operates McNeil Technologies, a $130 million company. The couple now lives in the city of Alexandria.
TOURS WERE GIVEN of the center, which, in addition to classrooms, will also includes a computer room, a health screening room, a community room, a family store and an environmental room that will house plants, frogs and other wildlife. By volunteering at the facility or attending its meetings, parents are able to earn "Hopkins dollars" to spend at the store.
Hopkins said adult programs at the center will include a Managing Our Money (MOM) series teaching about debt management, savings and homeownership, and a Daughters and Dads and Sons (DADS) class, which is a literacy program aimed at involving fathers in their children's education. There will also be a leadership program to teach parents skills such as public speaking and planning meetings in hopes that they will become involved in their schools' PTAs. Classes will be held in the evenings.
Noel Shepherd, who teaches money management at the other Hopkins House location, said classes will not begin at the Mount Vernon facility, nor will the health screening room be open, until the building is completely finished. "We're working on it," he said.