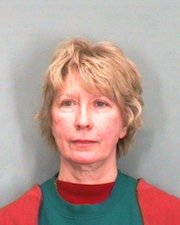 Sharon Rudolph Connelly, 67 of Springfield, met Raj Kumar Bansal in 1997, the year after her husband died.
A month later, Bansal, now 63, lost $75,000 gambling in Atlantic City during a trip they took together.
Connelly, the former director of the Office of Inspector and Auditor at the Nuclear Regulatory Commission, didn't like Bansal's gambling habits, but she enjoyed traveling the world with Bansal, who introduced himself as a millionaire real estate investor.
"We had a good time, I was retired," Connelly testified on her own behalf during her bench trial in U.S. District Court in Alexandria last week. "I wanted to travel, he was a man who was a great traveling companion. I got benefits. Even if I lost $10,000 to $15,000, it was well worth it."
Connelly cut off her relationship with Bansal, she testified, after she was arrested by Fairfax County Police in February 2006 on charges of racketeering, money laundering, conducting an illegal gambling operation and conspiracy charges.
"Fairfax prosecutors said I was the head [of the Bansal operation]," she testified.
Connelly testified she had no idea Bansal was operating a gambling operation until he pleaded guilty last month, even though Bansal faced trial on similar charges in Fairfax County in 1997, and Connelly watched part of that trial and reviewed the transcripts.
Connelly owned several businesses and used these to make mortgage loans to gamblers as a ploy to collect their gambling debts, according to U.S. Attorney Chuck Rosenberg.
Last week, Judge Claude M. Hilton convicted Connelly of conspiracy to commit money laundering. He found her not guilty of racketeering conspiracy.
"She didn't like gambling, she tried to get him to quit. Evidence shows she did not understand the nature of this conspiracy or the full extent of it," Hilton ruled.
Connelly faces up to 20 years in federal prison and forfeiture up to $7.8 million, according to Rosenberg.
She is scheduled to be sentenced early in 2008.
THE CASE, originally slotted for action in Fairfax County, was considered the largest organized crime and gambling case in Fairfax County's history.
At the height of the operation, Raj Bansal, 63 of Annandale, and his sons — Nicholas Bansal, 36 of Stafford, and Steven Bansal, 32 of Kill Devil Hills, N.C. — were bringing in "tens of thousands of dollars" every week, according to police.
After a two-year investigation by the FBI, IRS and Fairfax County Police Department into illegal gambling on football and basketball in Virginia, Maryland and North Carolina, more than 100 officers and detectives served more than two-dozen search warrants in the three states.
Thousands of gamblers placed bets on collegiate and professional sports games through the operation, according to police.
Bansal pleaded guilty last month to operating a racketeering conspiracy. He faces up to 20 years in prison when he is sentenced late November.
Nicholas Bansal and Steven Bansal pleaded guilty to racketeering conspiracy and having "no show" jobs at businesses in Arlington and Springfield and Alexandria.
They were sentenced to 37 months and 51 months in prison in Cumberland, Md. They hope for their sentences to be reduced for their testimony against other defendants in the case.
The three Bansals admitted to laundering more than $2.5 million in profits from operating an illegal gambling business from 1993 through 2006, according to Rosenberg.
FOURTEEN DEFENDANTS have been convicted as part of this investigation, which was prosecuted by Assistant U.S. Attorneys Daniel Grooms and Edmund Power.
A federal jury found Donovan Anthony Moncrieffe, 39, of Alexandria, guilty of racketeering conspiracy and conspiracy to commit money laundering during a trial that took place alongside Connelly's bench trial. Moncrieffe faces up to 20 years and will forfeit $112,349 as part of his conviction.
Pillai Balakrishnan Nair, 64 of Alexandria, pleaded guilty to racketeering conspiracy the day before Connelly and Moncrieffe's trial began.
The gambling operation was based out of Raj Bansal's home in Annandale.