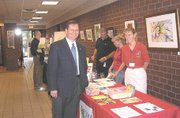 Advice on how to deal with neighborhood issues ranging from trash pickup to animal rescue were available to Lee District residents Saturday morning, Oct. 27 at the Franconia Government Center, during the third Annual Lee District Neighborhood Resource Fair.
Sponsored by Supervisor Dana Kauffman (D-Lee), the event provided an opportunity for residents to garner information from a wide range of county agencies as well as vent some of their concerns; and the drought-reducing rains didn't deter their enthusiasm or attendance.
"The main thing about this event is to provide citizens answers to their questions. Particularly, as that applies to neighborhood stability and protection," said Kauffman, as he moved among his constituents.
Having announced his retirement as Lee District Supervisor, Kauffman saw this third resource fair not as his last but as "another opportunity for Jeff to build on" into the future. Jeff McKay (D), Kauffman's chief of staff for the past 12 years, is running in the Nov. 6 election to fill the vacated spot on the Fairfax County Board of Supervisors. His opponent is Republican Doug Boulter.
McKay was absent from the Resource Fair as a result of his wife Crystal giving birth the day before to their first child. Leann Madison McKay arrived on Friday, Oct. 26, at 9:44 a.m., weighing in at 9 pounds, 2 ounces and 21.5 inches. Mother and baby are doing fine, according to Kauffman's office.
One display that drew exceptional attendee interest was that explaining the action of the county's newly established Strike Team, formed to enforce zoning regulations and building codes. Since its creation in June 2007, the Strike Teams have issued 1,500 Notices of Violations and 640 corrective work orders, according to David M McKernan, Strike Team operations chief and deputy chief, Special Projects, Fairfax County Fire & Rescue Department.
"We've been extremely busy but we are making some real progress. This is definitely a countywide effort but most of the violations are occurring in the older, single family housing neighborhoods around the Beltway," McKernan said.
"There is a lot of work to be done. We have to focus on doing it smarter and more efficiently," he said.
"Most of the residential violations we come across have a lot of items. Homeowners tend to fix the big problems and ignore the small ones. That's not good enough for us. We are shooting for 100 percent compliance — fix it all or go to court is our approach," McKernan said.
OF THE VIOLATIONS encountered, Strike Team statistics indicate they occur in the following categories and percentage levels: Public works 37; Zoning 24; Property maintenance 25; and Fire & Health 14.
Two commercial properties have also been cited for violations. Both were motels operating on Richmond Highway.
Fairview Motel, 6421 Richmond Highway Richmond Highway, was closed by the Strike Team on Aug. 14. Southern Motel, 8257 Richmond Highway, had the majority of its units closed in early September for various code violations. The two cases offer a stark contrast to what the Strike Team's encounter on any given day.
"We re-inspected the Southern Motel last week and they have done a tremendous job in correcting the violations. We allowed them to reopen 20 of their rooms. They are still working on a few others," he said.
"Fairview Motel is a different story. When we went out to re-inspect them, we ended up issuing another summons for working without getting the proper permits," McKernan said.
Fairview Motel was a case of numerous complaints over an elongated period of time from a number of sources, according to McKernan. The motel and adjoining house will remain closed and unoccupied until all health and safety violations have been corrected to the Team's satisfaction.
As for the Southern Motel, "These violations were basically code enforcement matters. Structurally the motel is sound," McKernan said at the time of the Team's initial inspection.
Throughout the two-hour event, Lee District residents were able to talk with county personnel in the areas of property maintenance and use, traffic enforcement and parking, trash collection, health concerns, and acquiring the necessary construction permits.