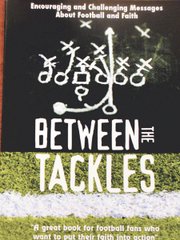 Local author Tom Houck recently published a new book called "Between the Tackles." He has written business books in the past, but this is his first faith-orientated book. It has 20 chapters of football-related strategies and stories that create pictures for biblical teachings. Several National Football League players, coaches and college stars are featured.
While doing graduate work, he noticed some spiritual concepts could be more easily understood by football examples. He hopes his book will encourage people to begin reading the Bible if they don't already do so and become stronger in their personal faith. Some people think the Bible is "confusing and complex," he says, but the Bible can provide direction and answers if people read it.
"THERE ARE LOTS of biblical references and my overall goal is to encourage people to think more about their faith and understand what God is like, how He wants us to live and our motivations," Houck said.
Washington Redskins chaplain Lee Corder said, "This is a great book for football fans who want to put their faith into action."
David Visser of Essence Publishing said they chose Houck's book because it was well written and relevant in today's climate. The sports theme is "very popular and something people desire to read about."
HOUCK HAS BEEN a Christian since he was a young child. He began to take his faith more seriously in the past few years after going through a rough patch in his life. He decided to read the Bible from start to finish and was personally changed. He was eventually compelled to pursue ministry and earned a graduate certificate of theological studies from the John Leland Institute of Theological Studies in Arlington.
He is completing a master's degree in theological studies at Wesley Theological Seminary located in Washington, D.C. He is the chairman of AuditWatch Inc., a training firm in the accounting profession, he founded in 1992.
"I think Tom's book is a great idea. People can find messages from the Bible that relate to everyday life and faith. People will really enjoy this book," said the Rev. Gordon Pruitt, senior pastor of St. Matthew's United Methodist Church near Richmond.