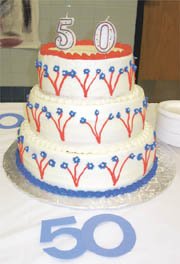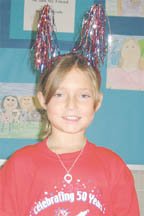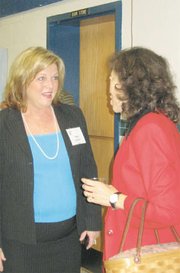 Fifty years ago, the Franconia area was booming with new families, new homes and, as a result, new schools.
Two years after the Rose Hill community celebrated its 50th anniversary, Rose Hill Elementary School had its turn on Thursday, Oct. 25.
"It's such an honor to be principal of this school, but especially this year," said Rose Hill principal Terri Czarniak, welcoming current and former students for the celebration. "This is an event not just for us but for the whole community."
Starting with a cake and punch reception, the community was ready for a good time. Meandering through hallways adorned with artwork made for the party, parents and students took their own trip down memory lane, comparing how the school looks today with its former appearance courtesy of old yearbooks and photos.
More than 500 students, parents, teachers, staff and old friends filled the school's gymnasium, listening to music from the 1950s before the formal presentation began. Slide shows featuring pictures of the school and trends of the day, from the 1950s through 2007, helped show the way things have changed since the school opened in September 1957.
"This is a really special night," said School Board member Brad Center (Lee). "I've been to a number of 50th anniversary celebrations in the past few years, which shows you how much this area was growing 50 years ago."
Center welcomed those who had moved on from Rose Hill, either in the past few years or 40 years ago and credited the staff with providing a safe, friendly learning environment for all children.
"A school is not just a building, it's not just the principals or the teachers or the students or the staff," Center said. "What has not changed is that this is a community of learning."
Sharing his congratulations, Dr. Richard Moniuszko, deputy superintended of Fairfax County Public Schools, played a little trivia game with the audience, asking them to guess if certain scenarios played out in 1957 or 2007.
"In which year were American students urged to study more science and math to better compete with people in other parts of the world?" he asked, a reference both to the launch of Sputnik by the Soviet Union in 1957 and the more recent mandates by the federal government for U.S. students.
"It's the special things that stay the same, including wonderful teachers and children," he said. "Rose Hill has been educating outstanding students every year to prepare them for the future."
Cluster V assistant superintendent Betsy Fenske applauded the school for its many successes over the past half-century.
"There is no greater high-five I can give you than this evening," she said. "It's nights like this I miss being a principal."