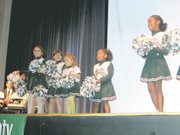 It was a simple, unanimous message: residents of the South County area need a middle school now.
Nearly 400 people gathered in the auditorium of South County Secondary on Wednesday, Oct. 24 to hear a panel of speakers, ranging from SCA members and parents to representatives from the Board of Supervisors and School Board on behalf of the middle school, for which land is reserved but funding is not available until at least 2017.
"Tonight is not about a boundary study, we've been through several of those," said John Rowley, a Crosspointe resident.
With members of Fairfax County Public Schools' facilities planning staff, including assistant superintendent Dean Tistadt, saying capacity is available in abundance at neighboring schools, families around South County have been fighting to move plans for constructing a middle school up in the school system's Capital Improvement Plan (CIP) to 2010. That's the year the school is slated to have a capacity of well over 3,000 students in a school built for 2,500.
Last February, the School Board voted in support of re-examining the middle school question, after completing the second boundary study in two years for South County. To move up construction, the community has to come up with a way to finance the school without disrupting the Capital Improvement Plan's pre-existing queue.
"A middle school is the missing link in the educational component of this area, and what we need to become one of the finest areas in Fairfax County," Rowley said.
Not only does South County already have the population to fill a middle school, but, when new families move into the area because of Base Realignment and Closure changes at Fort Belvoir, the schools in the area will be strained even further, said Christine Morin, co-chair of the Middle School Solutions group, which organized the rally.
"When the prison closed, land was set aside for three schools," she said.
South County Secondary, built as a high school, opened in 2005; the Laurel Hill Elementary School will begin construction in 2008 and open in 2009. Land for the middle school, just north of South County, is still ready and waiting.
If the school system does not begin construction on that land by 2012, Morin explained, the land may be returned to a developer under the conditions of the land swap that helped finance construction of South County.
"South County was never intended to be a secondary school, it was supposed to be one temporarily until the middle school we were promised was built," she said. "It was supposed to be a short-term solution, so why should we expect anything different?"
Barrington resident Rob Robertory discussed the populations at area schools, from Annandale and Hayfield to Lake Braddock and Robinson Secondary, and outlined how each school is already close to its core capacity. Many schools, including West Springfield and Lee high schools, are already over capacity.
"When families move in because of BRAC, what's going to happen to our schools?" he asked. "Robinson was projected to lose students this year, but they're already 243 students bigger than they were expecting."
Robertory mentioned the consultant hired by the School Board to examine the enrollment projection methods used to determine population, which uncovered 10,000 "unaccounted for" students, plus an additional 10,000 students that were moved into the district from home schooling or pupil placement.
"BRAC still hasn't been factored in to these numbers," he said, pointing at a map of schools in eastern Fairfax County. "The only answer to keep these schools near their core capacity is the middle school."
ENROLLMENT AT neighboring schools, combined with BRAC and a booming population have created a "perfect storm" scenario in South County, said parent Chris Bachman.
"This influx of people in itself from BRAC will require 1/3 of a middle school, according to Superintendent Jack Dale himself," Bachman said. "That's on top of the population we've already discussed."
Kim Kern likened the student population situation at South County to the levees in New Orleans before Hurricane Katrina: engineers warned that the levees wouldn't withstand a severe storm, but nothing was done to fix them until it was too late and the city flooded.
"We need a team whose goal it is to address the infrastructure needs in this area," she said. That team should include members of the Board of Supervisors, the School Board, elected officials at the state level including the House of Delegates and the State Senate, and, if possible, members of Congress including Sen. Jim Webb (D) and U.S. Reps. Jim Moran (D-8) and Tom Davis (R-11), who was in attendance Thursday night.
"We need everyone here to share the need for the middle school," Kern said. "Let's not sit back and wait for the levees to break to act."
MEMBERS OF the South County SGA surveyed 84 students from all six grades in the school about the middle school, and 84 percent of the students asked were in favor of it, said SGA president Steven Koch.
In the meantime, a modified bell schedule, auxiliary gym and modular classrooms have been put in place as temporary measures until the population has decreased. Students now have to wait until after 4 p.m. to meet with some teachers for extra help, sports teams have to wait to practice and other rooms needed for extracurricular activities are not available until middle school students are released at 4:05 p.m., said Lorenzo Paglinawan, treasurer of the SGA.
"I'm a believer. You don't have to convince me we need this school sooner than later," said Supervisor Gerry Hyland (D-Mount Vernon), after he removed his button-down shirt to reveal a green Middle School Solutions T-shirt to thunderous applause. The decision remains with the School Board, and while the two boards have an amicable relationship, he acknowledged the final decision is in their hands.
Hyland said he has spoken with Davis, community representatives and members of the School Board about the possibility of another land swap, maybe utilizing land owned by the Department of Defense on the Engineer Proving Ground in Springfield, but nothing has been discussed at length yet.
"You need to keep up the pressure on all of us with one objective, to get this school built," he said. "We want to educate our children here the way we educate children across the county."
School Board Chair Dan Storck (Mount Vernon) repeated his belief in the need for the middle school, but reminded those in the audience that money would be needed first for planning to start.
"We have wrestled with this issue for the past 10 years," he said. "We've made some mistakes and I was a part of that. We erred in the projections on the number of students who would come here. I don't think any of us is saying for certain the numbers we used for the boundary study are 100 percent certain."
However, when the Capital Improvement Plan was modified earlier this year, the middle school was not included in the five-year projections, Storck said.
"I don't know if there is enough support on the School Board to change that for next year, but we do realize it is a problem."
Davis, who helped secure the three school properties for the county when the Lorton prison closed in 2000, echoed Hyland's hopes to negotiate a land swap with the Army to finance the middle school. He offered that a deal involving a slightly higher residential capacity in the area may not have to be approved by Congress but could be made through a deal with the Department of Defense, should federal land become available for a land swap.
"We really hope to bring this home in the next few months, but you need to keep pushing," Davis said. "The county has some hoops to jump through, and it's not easy to come by a deal like this through Congress."
School Board member Brad Center (Lee) said later that if the numbers were there for a middle school, he would support it. But, he added that the school must be built with respect to the long list of projects ahead of it in the Capital Improvement Plan's queue.
"If we move the middle school up without replacing resources, someone else is going to get pushed back and that's not fair," he said. "It's like someone cutting in line at the movies."
Although the School Board is a separate entity from the Board of Supervisors, the influence of Hyland and Board Chair Gerry Connolly (D-At-large), who also appeared at the rally, does make a difference in the discussion, Center said.
"As an elected official, they have a role to play in the community, and if they can help give us a school, you're darn right I'll listen," he said. "But there is a separation of powers and it's not like they're going to strong-arm us into making this decision."