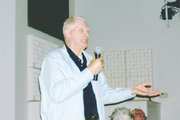 Expressing concerns about Trichloroethylene (TCE) in well water and the possibility of the carcinogen spreading, Broad Run Farms residents have called on the EPA to expedite replacing well water with public water.
Fred MacMillan, EPA Region 3 remedial project manager, however, said the agency cannot start implementing solutions to the TCE contamination until March 2008 and public water is one of several options. March is when the agency is expected to actually add the Hidden Lane landfill, considered the TCE's probable source, to its Superfund National Priorities List (NPL).
EPA Region 3 officials provided information to about 145 Broad Run Farms and Countryside residents last Wednesday, Oct. 24, about the Superfund process, treating the proposal more as a probability than a possibility.
The Loudoun County Health Department has identified 26 wells containing TCE in Broad Run Farms, including one recently found after two and a half years of periodic testing. Countryside is another community that abuts the landfill. The Health Department waited 16 years to initiate widespread testing in March 2005, after discovering the contaminant in two wells in 1989 and six more wells during the ensuing years.
TRICHLOROETHYLENE (TCE) is a chemical used to remove grease from metal parts. Exposure to water with small amounts of TCE over long periods of time can cause liver and kidney damage, impaired immune system function and impaired fetal development in pregnant women, the Agency for Toxic Substances and Disease Registry said.
Health officials have recommended that residents living next to properties with contaminated wells consider installing filtration systems. "We can't guarantee to any homeowners living adjacent to a well that it wouldn't become contaminated in the future," said Dr. David Goodfriend, county Health Department director.
State, local and federal officials have acknowledged that the Hidden Lane landfill is the likely source of TCE. The 25-acre landfill operated without a county permit from 1971 to 1984, and repeatedly violated restrictions on what was allowed to be dumped at the site, Office of Waste Management records said. County and state officials have said they cannot identify everything that was placed in the ground.
MACMILLAN SAID residents are exposed to TCE by drinking, cooking and inhaling it. In liquid form, it is heavier than water. At room temperature, TCE becomes a gas. It remains in the air for seven days or less, he said. Residents inhale it when taking showers, because the hot water draws the TCE out, he added. "In fact, the TCE constitutes a likely carcinogen," a cancer-causing substance, he said.
In addition, the TCE creates methane gas, which can accumulate in a pocket in the ground and even move under a house, MacMillan said. "We don't want that so we will monitor that," he said.
Shelly Jennelle of Broad Run Farms expressed concerns about the carcinogen. "When you say 'cancer,' that's all you hear," she said.
She asked EPA officials to place water filters in all of Broad Run Farms' houses, but withdrew the request after a resident complained about the filters that have been installed.
After the meeting, Broad Run Farms resident Michael Clark said bacteria feeds on the filter material and smells like rotten eggs. Chlorine has to be administered to kill the bacteria, he said. "Its cure is worse than the injury," he said.
Jennelle said she is afraid to give her children well water. "There are a lot of families here with health problems. It makes me wonder and worry if it's the cause," she said. "My house, my land, is at stake. My family is at stake."
Larry Johnson, EPA community involvement coordinator, said the agency will study whether the TCE has affected residents' health.
CLARK, WHO HAS TCE in his well, told officials he wanted the county to bring public water to Broad Run Farms before March 2008. Identifying himself as a father of two children, he said, "I want you to see my face. I want you to do everything you can to bring public water to our house."
Johnson repeatedly assured residents that he was committed to the cleanup. "I will be working day and night …. This mission to me is personal. I'm also a father of two," he said.
Supervisor Bruce Tulloch (R-Potomac) said the supervisors have asked the Loudoun County Sanitation Authority to start obtaining easements now because it has been identified as the No. 1 stumbling block to bringing in public water.
Melissa North said her Broad Run Farms well had not been polluted with TCE. But Loudoun County health officials have confirmed that the TCE could spread. Tests are conducted quarterly on four wells that have been TCE free.
"I could go home and bathe my 18-month-old son with TCE," she said, her tone moving from sarcasm to anger. "It is unacceptable."
Roger Cole thanked Goodfriend for continuing to test his well. Although no TCE has been found, he orders bottled water. "I'm still afraid to drink it," he said.
WILLIAM SCHULTZ of Countryside found fault with the Superfund's potentially negative effect on real estate, should he want to sell his home.
Johnson assured him that he knows of homeowners who have been able to sell their homes at market price even when they were located next to a Superfund site.
Kenneth Mikeman cited Fairfax City residents living next to a Superfund site as an example of houses that did not sell. "You couldn't give those houses away," he said.
Johnson said owners might not have to disclose that their home was next to a Superfund site.
Brian Terrebone, identifying himself as a Virginia real estate professional, said residents would, by law, be required to disclose that their homes are adjacent to the landfill.
Fern Shingleton, a Broad Farms resident for 47 years, said residents opposed the use of the Hidden Lane landfill from the first day a truck emptied refuse into it. Their complaints failed to sway county and state officials, he said. "They didn't listen. My question now is how much are you listening?"
Johnson reiterated his commitment to the cleanup.
Scott North of Broad Run Farms asked how long it would take the EPA to clean up the dump. MacMillan said 18 months or longer, depending on the complexity of the contamination. "We don't know how big it is," MacMillan said.
Joan King of Countryside said she would like the EPA to erect a fence around the entire landfill, including the area adjacent to her community. She said she wants to protect the children who have used the landfill for winter sledding.
Tulloch, describing the landfill's sink holes and methane gases, said the stakeholders committee has agreed the area needs to be cordoned off. "There's something cooking on that hill," he said. "That hill is active … and it poses a threat."
Sometimes it smells like a skunk, King said.
THE EPA OFFICIALS and members of the stakeholders committee encouraged residents to get involved. MacMillan also said that $50,000 would be available for citizen's group to hire an outside technical expert to help interpret the data that the EPA collects and analyzes.
MacMillan declined to answer questions about liability, saying the purpose of the forum was to discuss the process. Liability talk would be premature, he added. The landfill's owners are deceased, but the EPA can go after their estates and any parties proven to have illegally dumped material at the site.
MacMillan pledged that the EPA would continue to monitor the landfill after the TCE is removed. "We don't just walk away from it," he said.