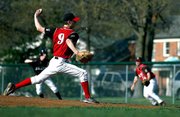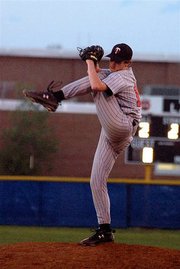 Second-year head coach Jim Supple was confident heading into the season. But almost 10 games into the season, he hardly expected the St. Stephen's & St. Agnes baseball team to still be undefeated. Behind senior co-captains Connor McGuiness and Robby Barnard, the Saints survived a Spring Break trip unscathed.
Aside two straight early season one-run wins, — including a 2-1 win over bitter Alexandria rival Bishop Ireton on March 15 — the Saints really haven't even been tested.
After wins over Avalon, Ireton, Riverdale Baptist and Forest Park, SSSAS went to the Cocoa Beach Baseball Expo in Florida.
There, the Saints registered wins over teams from Pennsylvania, Wisconsin, Connecticut and Kentucky. They then went to Episcopal, an IAC rival and embarrassed the Maroon with a convincing 13-2 win.
SSSAS narrowly missed the Virginia Independent School Athletic Association state tournament last season, and united their frustration behind St. Christopher's, who the Division I VISAA runner-up.
McGuiness is the pitching ace and will play at Emory University next season, while the defensive-minded Barnard plans to play at the University of Rochester next season.
Junior shortstop Whit Mayberry is sharing time with McGuiness on the mound, while seniors Geoff Goff, Alex Miller and Roanoke College-bound William Ruberry are adding power throughout batting lineup.
Tyler Johnson is manning centerfield, while senior standout runner back Isaiah Carpenter covers left field.
In the nine victories, the Saints are outscoring their opponents 90-24, and while SSSAS is the only IAC team still undefeated, perennial IAC power St. Albans is 11-2.
<b>THE TITANS BASEBALL</b> team played their first home game at newly renovated Simpson Field on Tuesday, and earned a 12-5 victory over Lee, a Patriot District rival.
Titan senior right-hander Lee Tackett relinquished a run in both the first and second innings, but eventually calmed down to throw five innings for the win.
The Titans bats started right away, notching three runs in the bottom of the first inning and five in the bottom of the second. Sophomore third baseman Robert Mannel sent a three-run blast after two-out singles by both Tim Mannel and Sam Alexander.
The Lancers, who had already doubled their win total from 2007, were coming off a 5-1 victory over Hayfield on Friday when ace Ryan Davis threw a no-hitter and had 11 strikeouts.
Lee pulled to within three runs in the fifth inning, before a combination of a four-run sixth, Alexander relieving Tackett in the sixth and sophomore Matt Kilby capping the seventh gave the Titans the district win.
T.C. Williams scattered 14 hits and were paced by leadoff hitter Pike Brynildsen, who collected a single, triple and three walks. Freshman catcher, Trav Clark, added three base hits to raise the Titans' record to 3-4 overall.