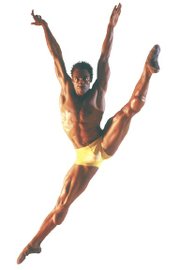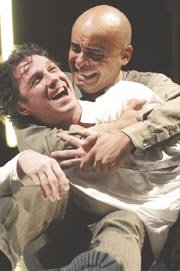 There will be international philharmonics and regional dance ensembles. There will be D.C. brass and Spanish percussion. There will be Shakespeare, James Fenimore Cooper and Christmas classics.
"We have a great variety of events that will provide stimulating opportunities for people with many and diverse interests," said Tom Reynolds, director of artistic programming, marking and audience services for George Mason University's Center for the Arts. Reynolds took part in a press event Thursday, April 3, at the Center for the Arts announcing GMU's 2008-09 performing arts season.
The season features dozens of performances as well as several special events — including The Mason Festival of the Arts from June 12-29, 2008. This celebration of all genres of art features a film festival, stage events and family fun throughout the festivities. Visit www.gmu.edu/cfa for more information on all events.
Reynolds said an important community art component will be part of the festival this year. "There will be one weekend in particular when this plaza out here will be covered with tables and tents and artists of all stripe," he said.
The 2008-09 season features events for the family, like the returning favorites National Acrobats of China (April 17, 2009), and more daring works like LA Theatre Works presentation of "The Great Tennessee Monkey Trial" on Friday, Feb. 20, 2009.
"It's the right mix between what's comfortable and what's easy in presentations, and what pushes the envelope a little bit," said Michael Harreld, PNC Greater Washington Area President. "That is a redeeming role of a university."
PNC is a major sponsor of the arts season, but it's not the sole reason why tickets to events are affordable in comparison to other forms of entertainment in the area. Legions of volunteers are the backbone of GMU's arts presentations. "It's very important to keep the arts affordable," he said, adding it was vital to "make access, not at the expense of excellence."
THE 2008-09 season of performances spans genres and generations, collecting an impressive and eclectic array of talent. "We are immensely proud of what Great Performances at Mason means to the campus community and to the people of the region," said GMU President Alan Merten.
Among the highlights:
* Brian Stokes Mitchell will perform on Saturday, Sept. 27. Dubbed Broadway's "last leading man" by the New York Times, he's a Tony-award winning star who performs an evening of timeless showtunes and ballads. He will appear as part of the "Arts by George!" celebration that benefits student scholarships; for $200, patrons can have a full evening of fun that includes a champagne and dessert reception on stage with Mitchell.
* GMU offers several subscription options for different genres of entertainment. For example, the "Magnificent Music Series" will feature tickets for six concerts that range between $258-$129. The series features the Kirov Orchestra, conducted by Valery Gergiev (Nov. 14); Legendary pianists Emanuel Ax and Yefim Bronfman (Nov. 23); musician and singer combo of guitarist Christopher Parkening and vocalist Jubilant Sykes perform a holiday concert (Dec. 20); the Dublin Philharmonic Orchestra, on its first tour of the U.S. (Feb. 6, 2009); The Academy of Ancient Music's "Brandenburg Concertos" (March 22, 2009); and the National Philharmonic of Russia's collection of elite musicians (April 24, 2009).
Former "Tonight Show" band leader Doc Severinsen brings a Spanish jazz group he discovered called "El Ritmo de la Vida" to the Center for the Arts on Nov. 15.
On Feb. 28, 2009, Parsons Dance brings its entertaining and audience-friendly show to town, with some local interest: Mason graduate Billy Smith returns to campus for the first time as a member of the dance organization.
Harreld said the arts performances are just as important to the students as they are to the community.
"Most of what people are doing here on campus is thinking about some way to make a living," he said. "So it seems to me only appropriate to take a minute and stop and think about not making a living, but how you build a life."
More like this story