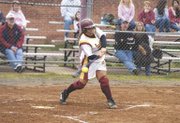 During her two years as a member of the Broad Run High girls' softball team, sophomore outfielder Anna Blessing has smacked several home runs over the Spartans' home field fence --- all of those shots occurring during practices.
But last Saturday afternoon, Blessing connected on her first round tripper over the Broad Run fence in a regular season game in the Spartans' 4-0 win over non-district opponent Spotswood High (Penn Laird, Va., outside the Harrisonburg area).
"That girl has so much power," said Broad Run coach Ed Steele. "Last year she hit more over the fence in practice than anybody."
Blessing, Broad Run's center fielder who was hitting No. 7 in the line-up against the visiting Trailblazers, struck out for the first time all spring in her first at-bat in the bottom of the second inning. But leading off the fourth for the Spartans, she swung at the first pitch from Spotswood pitcher Molly Smith and sent a high, deep ball over the right center field fence.
"I had just come off of my first strikeout and I was looking to get up there and relax and trust myself," said Blessing, a right-handed batter. "The pitch was a little to the outside but still [near] the middle of the plate."
After connecting, Blessing knew she had a home run by the crowd noise.
"I heard people cheering, so I knew it was gone," she said.
Broad Run, which was coming off a 3-0 Dulles District win over Park View the night before, scored single runs in both the first and third innings against Spotswood to go ahead 2-0. Then in the fourth, the Spartans added two more, the first coming on Blessing's solo shot and the latter run coming later in the inning on an RBI single from Karla Powell.
Broad Run tallied 11 hits in the win. Leading the offensive charge were Blessing (2 hits), leadoff hitter Ashley Kramer (3 singles), No. 2 hitter Michelle Clohan (2 singles) and Powell (double, RBI single). Also getting hits for the home team were catcher Haley Johnson (RBI single in the first) and senior pitcher Caitlyn Delahaba (RBI single in the third).
<b>ON THE MOUND</b>, Delahaba, who tossed a perfect game against Park View on Friday night, fanned the first 11 Spotswood batters she faced. For the game, she went four innings of no-hit ball. The only Trailblazer to hit the ball into play was Smith, the team's pitcher and No. 3 hitter who hit a chopping ground ball back towards the mound that Delahaba easily fielded and threw for the put-out.
Coach Steele elected to go with No. 2 Broad Run pitcher Judy Betz over the final three innings of the game. Betz, a junior who will in all likeliness be the Spartans' top pitcher next year, threw three solid innings of shutout ball, allowing a sixth inning single, while striking out four and walking one. Betz pitched well despite having a swollen thumb.
In Friday's win over Park View, Delahaba, who led Broad Run to the Virginia State AA title last year, fanned 15 Patriots over her seven innings of work. It marked her first perfect game of the season.
"I had all my pitches working, which is kind of rare on some nights," said Delahaba. "Haley [Johnson] called a good sequence of pitches [behind the plate]."
Added coach Steele, "Perfect games are hard to come by. You give up a walk, or if there's an error, whatever, it's over."
And the hard-throwing right-hander kept it going the following day with four perfect innings against Spotswood.
"I don't think they've seen this kind of pitcher," said Steele, of Spotswood having to face a player of Delahaba's caliber. "She kept them off balance."
Delahaba loved getting a breather after her four innings of work against Spotswood and watching Betz do her thing on the mound.
"It was great," said Delahaba. "I was able to relax a little while. [Betz] did a great job too."
Delahaba said Broad Run's strong defense behind her and the team's hitting have been big factors in the team being 11-0 overall.
"I think we're definitely playing well, but we can play better," she said. "Everyone is hitting well."
When asked if the team feels pressure to repeat last year's success when the Spartans won the Dulles, Region II and state championships, Delahaba said it is a good kind of pressure the Broad Run team is feeling.
"I think we enjoy it because it gives us something to work for," she said. "I'd say we're actually working harder this year."
Kramer, the Spartan shortstop and leadoff hitter, echoed some of the same thoughts.
"We know there's a lot of pressure on us because we're a good team," said Kramer. "But we enjoy the pressure."
Kramer has been one of the team's top offensive players. The senior has been getting on base on a regular basis this spring.
"We pretty much score each [first] inning because she gets on," said Steele.
Kramer, laid back by nature, does not put pressure on herself when she's playing ball.
"I'm a relaxed person and I'm relaxed at the plate," she said. "I try to hit the ball as good as I can. Today we all hit the ball very well."