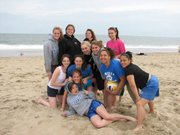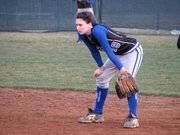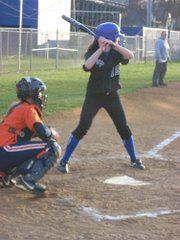 Katy Bradley remembers seeing Alexis Starr's name pop up on the caller ID. Normally when Starr calls, it's to chat about homework or to discuss softball strategy. But the season had just ended and school was letting out so Bradley figured the conversation wasn't going to diverge in either of those directions.
She now wishes that conversation was about either of those subjects.
Soon after the conversation started, Bradley couldn't fathom what her classmate and softball confidant would soon reveal. No prior experience had braced either girl for what they would soon have to endure.
"I was in shock, but when she started crying, I knew it was true," Bradley said. "It was finals day. We were all devastated and crying."
Less than two years earlier, a laser-armed, but undersized Bradley was a freshman on Dennis Day's varsity softball team. Day, the longtime Wolverines head coach, made it a point to take his girls on mini-vacations as an avenue to foster team-unity.
Day figured if his girls truly cared off the diamond, that the on-field results would follow soon thereafter. At Graves' Mountain Lodge in Syria, Va. — almost 100 miles from the school — Bradley found herself in the crossfire of a shaving cream fight. Cornered by one of the coaches, an extroverted junior bailed her out, distracting the coach long enough for Bradley to make a getaway.
<b>IT'S A SCHOOL</b> tradition for school officials to charter buses to ESPN Zone as a graduation celebration. It's a night for the seniors to relax, as one last hurrah as congratulations for four years as a Wolverine. Or in Renee Nicole Shelkin's case a Wolveriiiiine.
The former cheerleader was a marginal softball player. She didn't have the power at the plate, and really wasn't a standout defensively, but the bubbly senior had still developed into a vital cog of the softball team.
"She was very energetic, enthusiastic and full of pep," said senior left fielder Kinsey Cunningham. "She was the spirit of the team."
Shelkin loved softball so much, that when faced with limited playing time, Shelkin decided to relinquish her uniform for a managing position midway through the 2007 season.
"She was the happiest, bubbliest person you could ever imagine," Bradley said.
And now she's gone.
<b>SHELKIN DIED</b> in a car accident that claimed four lives, and easily ranks as the single-most tragic event in West Potomac's 23-year history. Two victims, including Shelkin, had graduated just six hours before, while another girl was still a student.
The community was stunned, and the trickle-down effect quickly trigged raw emotions for some of Shelkin's closest friends. Her teammates.
"It took a huge toll on the team," said standout pitcher Elizabeth Crowe. "We're just now starting to work through it."
The Wolverines have dedicated the 2008 season to Shelkin's memory, and the administration has a moment of silence before every game. But the team's set of seniors decided early on, that the best way to honor Shelkin, and what she stood for would be to become a tight-knit unit.
"It's really rare to find a team where all of us are best friends," Bradley said. "We spend all of our time together on the weekends. Having that bond there already is making everything easier."
Winning helps too. Under first-year coach Tanya Rodman, the former junior varsity coach, the Wolverines have tallied three straight district shutouts, punctuated by an 11-0 thrashing of Lee on Tuesday. In the past three games following a district-opening 7-3 loss to Hayfield, West Potomac has tallied a seven and eight run wins over Lake Braddock and Annandale respectively.
"All of the hard work is starting to pay off," Crowe said. "We were off a little bit in the beginning of the season, but something has finally clicked. I think the closeness off the field is starting to show on the field."
Crowe, a senior co-captain, is one of the reasons why. She's been on the mound virtually every inning this year, and the Wolverines seem poised to piggyback her arm to their first district title since the 2005 season.
"We're trying to get to the district tournament because the last two years, we've been robbed of it," Bradley said.
What's going to be the final straw to push West Potomac over the top?
"We're best friends," Cunningham said. "I can't live without these players."
That is, however, a lesson the Wolveriiiiines know all too well.