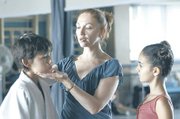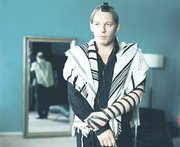 <b>AS THE 8TH</b> annual International Jewish Film Festival shows, the breadth of topics that can be covered in a Jewish film go far beyond standard "Fiddler On The Roof" fare.
<p>One of the films that will be featured in the festival, being held in Fairfax and Arlington starting next week, is "Orthodox Stance," a documentary about a boxer in Brooklyn trying to balance his profession with his religion.
<p>"It shows a young man who needed to find a path in life and found it," Naomi Sweet, chairperson of the festival, said. "The message is that you can be who you want to be and still practice your religion."
<p>Another film is "Bad Faith," a romantic comedy from France about romance between a Muslim man and a Jewish woman. "It deals with romance and love," said Roz Engels, a coordinator with the JCC of Northern Virginia, which is sponsoring the festival. "When they find out they're having a child, that's when the issues arise."
<p>There is also, among others, a documentary about Jewish comediennes, a drama about immigrants who settle in the deserts of southern Israel and a comedy about an English boy's clash between his bar mitzvah and the 1966 World Cup.
<p><b>"THEY RUN</b> the gamut," Sweet said. "Our criteria is that the film must have some depiction of Jewish life… It's a kind of loose definition."
<p>This is the eighth year the Jewish Community Center of Northern Virginia is hosting the International Jewish Film Festival. Engels said that there are approximately 93,000 Jews in Northern Virginia but that, unlike in nearby Montgomery County, "They're spread out... A film festival like this brings people together."
<p>While many of the films depict life in Israel, others feature European and American Jews grappling with issues of love, war and, most of all, identity. "There are universal stories everywhere in all these different cultures," Jon Palmer-Claridge, an official with Arlington County Cultural Affairs, said.
<p>In previous years, the films were shown at Cinema Arts Theatre in Fairfax City. But this year, the festival is expanding to the Rosslyn Spectrum in Arlington. Palmer-Claridge said that his office jumped at the opportunity to bring the film festival eastward.
<p>"We're really happy to have it," he said. "We think these are really wonderful films… You don't have to be Jewish [to enjoy them]. These talk about universal issues."
<p>Sweet said that she hopes the expansion into Arlington will allow those throughout the D.C. metro area to avail themselves of the films. "You'd be surprised how many people think they need a passport to get to Virginia," she said. "This connection we're hoping is going to [make it] better."