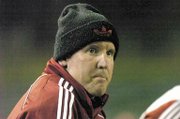 Herndon High boys' soccer player Sean Murnane scored three goals for a hat trick to lead the Hornets past Oakton, 5-2, in a Concorde District contest on April 17.
Murnane, a junior striker, also had an assist in the win. With the victory, Herndon improved its overall record to 8-1 and its district record to 3-1.
Following the game, Murnane had 13 goals on the season. Herndon's Christian McLaughlin (9 goals, 11 assists on the season) had one goal in the win, while Diego Herrera netted his first goal of the season off of a magnificent run by Alex Darwiche down the flank.
Chris Geyer, known as Mighty Mouse, had a great game, dominating the central part of the field and breaking up Oakton's attack all night. Also for Herndon, Luke Merrill made his presence felt many times with bone crushing tackles and getting an assist on one of Murnane's goals. Off the bench, the Hornets received a strong game from Tanner Hatch, who provided the width needed to open things up for the central players. Herndon improved to 8-1 wit the win.
<b>THE GAME</b> was tied 2-2 at halftime. The Hornets had built first half leads of 1-0 and 2-1, but the Cougars came back both times.
But the Herndon squad got re-focused at the halftime intermission and dominated second half play.
"We talked about what we needed to do and it wasn't a game after that," said Herndon coach Sean Lanigan.
Herndon's only loss this spring came a few weeks ago against district opponent Robinson.
That was one of the few occasions this season in which Herndon's top two scoring threats – Murnane and Christian McLaughlin – were shut down.
"They were just off that day," said Lanigan.
The coach said his team gained some positives from the loss to the Rams.
"We learned a lot from that game, on working a lot harder and focusing more on training," he said. "We realized we are not just going to skate through and go undefeated this season. Robinson has a great defense and did a great job shutting us down."
Lanigan said he would like to see his defense not suffer the occasional lapses in which opponents have chances to capitalize.
"We're struggling still to keep simple goals out of the net," he said. "We have four or five defensive lapses in a game, sometimes resulting in goals. We're giving goals away [at times]."
On offense, meanwhile, the coach said the Hornets are creating numerous scoring chances. He would like to see his team find the net more often in taking advantage of those chances.
"We're creating lots of chances, and missing," he said. "We're getting the hard ones. But on easy chances we're going over the net [on shots] or wide."
Herndon was scheduled to play a non-district game against Wakefield earlier this week. Next Monday, the Hornets are scheduled to play at district opponent Westfield.
<b>The South Lakes</b> High boys' soccer team was victorious against visiting Madison, 2-1, in a Liberty District contest last week. The winning Seahawks got goals from senior captain Santos Cerda (assist by senior captain Alex Stom) and junior midfielder Dennis Alfaro (assist by Cerda).
South Lakes, which trailed, 1-0, early in the first half, received an outstanding game from sophomore back-up goalie Mohammed Hassan, who entered the game after an injury and held the Warhawks scoreless over the final 60 minutes of the contest. (Madison got off 12 shots, none finding the net, when Hassan was in the game).
South Lakes' first goal late in the first half came from Cerda, and the second from Alfaro. The Seahawks got off a season-high 20 shots on the goal.
With the victory, South Lakes improved its district record to 2-1 for the season.