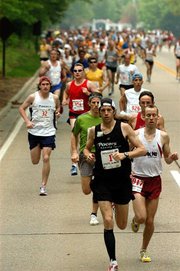 Arlington's Michael Wardian, 34, finished as the 41st overall finisher and was the 17th top runner from the United States at the prestigious Boston Marathon on Monday. Wardian, who ran a blistering 5:40-mile pace, was paced 75 Arlington finishers, with a 2:28:35 time.
The run-crazed Wardian, who is sponsored by Pacers/Brooks was running his fifth marathon in six weeks and seventh of the year. He finished the 26.2-mile course in less than 149 minutes just eight days after winning the U.S. 100-kilometer championship on April 13 in Madison, Wis.
In his first-ever 100-kilometer race, Wardian ran the final four miles on a swollen ankle, finishing in 6:56:57 to win his second straight ultrarunning title.
Wardian, who also won the U.S. 50-kilometer championships last month, let Steve Stowers (Berkeley, Calif.) and Adam Lint (Patton, Pa.) set the pace for the first 40 kilometers before moving into the lead before the halfway mark. Over the ladder portion of the race, Wardian continued to increase his lead and eventually won by more 17-plus minutes over Stowers.
Wardian earned a $2,000 purse for the win, and an automatic spot on the U.S. team. Wardian will likely compete in the 100-kilometer World Cup Race in Tuscania, Italy, on Nov. 8, 2008.
Last year, he ran 13 marathons, including his second Olympic trials. This year, he's already logged a half-dozen, two on consecutive days last month in Washington and Knoxville, Tenn., where he finished first and third.
The 41st-place finish is actually not even Wardian's best-ever in the Boston Marathon, considered one of the nation's premier races. The former Oakton grad finished 19th in 2004, but had a personal-best 2:25:43 time in 2005. His personal-best marathon time was at the Yuengling Shamrock Sportsfest in March 2007, when he finished 2:21:37.
Katie Muething, a former collegiate tennis player was the top Arlington-based female finisher, with her older sister Mary Beth Muething placing exactly seven minutes later. The sisters dominated the D.C. Road Runners Club's National Capital 20-Miler in Alexandria in late September 2007, when Katie Muething won and Mary Beth Muething finished third. They were followed by recent James Madison grad Mary Christen Vecchione.
Robert Cheruiyot, Kenyan's first four-time winner, finished in 2:07:46, the sixth fastest time in the race's 112-year history. The first American finisher was 10th-place runner Nick Arciniaga of Rochester Hills, Mich., who finished in 2:16:13.
Dire Tune, 22, of Ethiopia, outkicked Alevtina Biktimirova to win the Boston Marathon by two seconds in the closest finish in the history of the women's race.
Prize money totaled $796,000, the highest ever guaranteed for a marathon.
<b>IN THE OLYMPIC TRIALS</b>, which was held on April 20, Kristen Henehan, the most recent Marine Corps Marathon winner, was the top Pacers/Brooks runner, finishing in 2:49:42, good enough for 96th. Alexandria-based runner Lisa Thomas finished 99th, while Arlington's Mary Kate Bailey did not start though she was qualified.
American record holder Deena Kastor won the race.