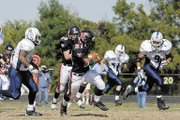 Herndon High senior Dan Knoll recently accepted an offer to play football at The Apprentice School, an NCAA, Div. 3 program in Newport News.
Knoll, who grew up in Herndon, was the Hornets' starting center last fall. He earned Honorable Mention All-Concorde District accolades at the position, and was part of a Herndon team that came on strong near season's end to finish 5-5.
Knoll, not physically big for a lineman at 6-foot, 190 pounds, came into his own in being a key leader on the Hornets' line. He used his quickness and guile to succeed at the center position, and often called out blocking adjustments according to what opposing defenses were showing.
"He's a smart player and made calls at center," said Herndon coach Joe Sheaffer. "A lot of times a center is under-appreciated. He was one of the most important linemen we had and one of the most consistent."
Sheaffer said one of Knoll's strengths at center was using his quickness to get downfield and to make secondary blocks on linebackers.
"He's quick enough to get to the linebackers," said Sheaffer.
The Herndon coaching staff realized early on during pre-season last fall that Knoll was the man who would be snapping the ball to quarterback Zack Ozycak.
"It was pretty obvious," said Sheaffer. "The first two weeks we knew he was going to be our starting center even though he's not a big kid."
<b>ONE AREA</b> of Knoll's game that attracted attention from several smaller colleges was his ability to long snap for punts, extra points and field goals. Knoll has an uncanny ability of getting the ball back precisely and quickly for such special team plays.
Sheaffer, who said he has been working with long snappers during his 20 years of coaching, realized Knoll was outstanding in that small, but vital role of special teams.
"He's a great long snapper and one of the best in the [Northern Region]," said Sheaffer, who said Knoll became Herndon's long snapper during his junior year. "You've got to kind of have a knack at it. Once you learn how to do it, there has to be consistency. It's all follow through. We've always had good snappers at Herndon."
As a senior last fall, Knoll was named Herndon's Special Teams Player of the Year, not just for his long snapping ability, but for his prowess in getting down field and making plays on punts.
When Knoll expressed to coach Sheaffer that he was interested in one day playing football at the collegiate level, the coach told him a lot of college programs would love having a player with Knoll's long snapping ability. He emphasized to Knoll that starting on special teams is every bit as being an offensive or defensive starter.
"I told him, `This is a great opportunity for you to be a starter on a [college] football team," said Sheaffer. Special teams is one-third of the game, just like offense and defense."
<b>IN THE END</b>, the Apprentice School, a ship building trade school in the Tidewater area, expressed a desire for Knoll to continue his studies there and for him to be a part of the football program. Knoll committed to the school two weeks ago.
"They really showed an interest in Dan and their coach showed a lot of interest in him," said Sheaffer.
The Apprentice School, under coach Michael Vite, competes within the Div. 3 Atlantic Central Football Conference. The Other schools in the conference include Wesley, Salisbury and Frostburg State.
Knoll, with limited size, worked hard to make himself a good high school football player. And his desire to help the Hornets win was contagious.
In Herndon's late-season, come-from-behind win over Oakton, Sheaffer recalled the Hornets were struggling throughout much of that game. But Knoll was not about to get discouraged.
"Dan was into it the whole game," Sheaffer recalled. "And he was getting [his teammates] to stay into it too."
Sometimes, it's the little things – like making a crisp, clean long snap for an important punt, or encouraging teammates when things look hopeless – that help teams win and certain players rise. Such is the case with Knoll.