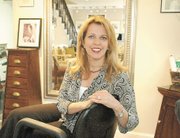 <i>Keeping Shop is a regular feature of the Gazette Packet. To qualify, retail shops should be locally owned or operated; new, expanding, celebrating a significant anniversary or doing something otherwise newsworthy. To nominate your business or another business, contact Mary Ann Weber, editor, Gazette Packet,<a href=mailto: maweber@connectionnewspapers.com> maweber@connectionnewspapers.com</a>.</I>
<b>Owner:</b>
<b>Lorraine Aprile</b>
<b>Short Bio:</b>
I am a native of Surrey, England. I moved to the United States 20 years ago this year. I have been in the industry for 28 years, starting in high school where I worked part-time as a shampoo assistant.
<b>Why did you choose this particular business</b>
I really enjoy meeting people and taking care of their particular needs and desires. In addition to building an extensive clientele base, I have also made a lot of long term friends. The hair styling business is very rewarding.
<b>Why did you choose to work for yourself rather than as an employee for someone else?</b>
I did take a risk in opening up a business in Old Town. My clients were in Washington DC. However, I felt it was time to strike out on my own. I chose to purchase a mixed use (zoned residential/commercial) building that was convenient to the Metro and also in an area of Old Town that was really beginning to take off. My clients followed me to Alexandria and I soon increased my clientele by word of mouth. I think I saw the increase mainly because we have a different style here. For example, I welcome children. We have toys and videos to keep the little ones occupied and quiet while Mum gets her hair done. I really wanted to create an intimate atmosphere in which everyone could feel comfortable in. Many salons get busy and loud and people feel rushed at times. I wanted to get away from that and provide a more personal touch. In addition to regular hairstyling, I love to do hair for weddings and special events. At my salon, the setting is just right for a bride to get ready for her big day along with her wedding party.
<b>What have you learned from being in business:</b>
I have learned that there are many aspects to owning a business, other than just providing the basic service of styling hair. In addition to being a full time stylist myself, I have found the management side of things (e.g. administration and human resources) is a huge component to being successful. To that end, I have decided to hire a manager, so that I can continue doing what I love most, meeting people and cutting their hair!
<b>Share an anecdote of a challenging or humorous experience or biggest surprise learned from working your business:</b>
Sometimes I get so busy, I forget when the payroll is due! You know you need extra help, when you have to ask your employees "is it pay day today?" Fortunately this doesn't happen very often and I am lucky to have a very understanding staff.
<b>What are the advantages and /or disadvantages of operating a business in Alexandria:</b>
Having City Hall right here in town, with all its resources for small businesses is great. I have found the City's staff to be extremely helpful. They are ready to guide you and help every step of the way. Old Town is made up of lots of small businesses and we are one big family all out to help each other.
<b>Manager (if different from the owner):</b>
Our new manager will be Karen Digby, my sister. She will join our team in May 2008 and will be in charge of salon operations. Karen has many years of experience in office management and human resources. Her willingness to help others will be a great asset as we continue to grow the Lorraine Aprile Salon.
<b>Key staff:</b>
Lorraine Aprile: Owner/stylist
Angela Russell: Stylist
Karen Digby: Manager
Melek Demirbas: Stylist assistant.
<b>Description of services and products:</b>
We offer all hair cutting and coloring services as well as texturizing services (permanent waves, and permanent straightening) Children's hair styling Weddings and special events. Make up application and make up instruction. We use Redken, Grund, and Scruples products in our salon. All new clients receive their first hair cut at half off the regular price * not available on Children's prices
More like this story