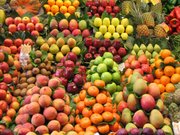 The 2008 season of the Fairfax County Farmers' Market kicks off May 1 this year. All farmers and producers come no further than 125 miles from Fairfax County, and all markets feature Master Gardener Plant Clinics. For locations, directions and information see www.fairfaxcounty.gov/parks/farm-mkt.htm or call 703-324-5390.
<b>Fairfax: Van Dyck Park
</b>Tuesdays, May 6-Oct. 28, 8 a.m.-noon. 3730 Old Lee Highway, Fairfax
<b>Fairfax: Downtown Coalition
</b>Saturdays, May 3-Oct. 25, 8 a.m.-1 p.m. 10500 Main St., Fairfax. See www.geocities.com/Heartland/Garden/3698.
<b>Wakefield Park
</b>Wednesdays, May 7-Oct. 29, 2-6 p.m. Wakefield Park, 8100 Braddock Road, Annandale
<b>Kingstowne
</b>Fridays, May 16-Oct. 24, 4-7 p.m., Kingstowne Town Center, 5955 Kingstowne Center, Alexandria
<b>Burke
</b>Saturdays, May 3-Oct. 25, 8 a.m.-noon. VRE Parking Lot, 5671 Roberts Parkway, Burke