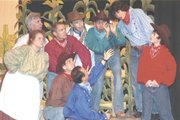 Send announcements, which are open to the public at no or minimal cost, to The Loudoun Connection, 7913 Westpark Drive, McLean, VA 22102 or e-mail loudoun@connectionnewspapers.com. Deadline is Friday, two weeks before the event. Photos/artwork encouraged. For more information, call 703-917-6454; for additional listings, visit www.connectionnewspapers.com.
<ro>Last Chance
<lst>
The Sterling Playmakers present "Oklahoma!" weekends through Aug. 10, at Potomac Falls High School, 46400 Algonkian Parkway, Sterling. Showtimes are Fridays and Saturdays, at 8 p.m. and Sundays at 2 p.m. Cost: $15 reserved, $12 general admission. Call 703-437-6117 or visit www.sterlingplaymakers.com.
<ro>Ongoing
<lst>
Aurora Dinner Theatre presents playwright Tina Howe's comedy of manners, "The Art of Dining," to be produced at West Belmont Place, National Conference Center, 18980 Upper Belmont Place, Lansdowne, Aug. 8-17. Cost: $65 per person, including tax and tip and are available by visiting www.AuroraStudioTheatre.org, tickets must be purchased in advance. Fridays and Saturdays, dinner at 6 p.m., show at 7 p.m., dessert at intermission. Sundays, dinner at 2 p.m., show at 3 p.m., dessert at intermission. Visit www.AuroraStudioTheatre.org or call 540-668-7072.
Leesburg Theatre presents "Anne of Green Gables," at Crossroads Baptist Church, 850 Edwards Ferry Road, Leesburg. The show runs Aug. 9, at 8 p.m.; Aug. 10, at 2 p.m.; Aug. 16, at 2 and 8 p.m. and Aug. 17, at 2 p.m. Cost: $8 for adults, $7 for students and seniors. Call 703-577-6797 or visit www.leesburgtheatre.com.
A series of aerial photographs by Loudoun County photographer Jim Hanna is on exhibit at Washington Dulles International Airport through Aug. 26. The exhibit, coordinated by the Washington Metropolitan Airport Authority and Gallery 222, is the fourth in the program's rotating series of displays. The exhibit is installed in the area beyond the security checkpoints in the Main Terminal on the Arrivals Level. Visit www.gallery222.com.
The Artists' Undertaking Gallery in Historic Occoquan presents "Etched in Time," an exhibit of etchings by Roger Frey of Woodbridge and etched and fused glass by David Barnes of Sterling. The exhibit runs through Sept. 1. An artist reception will be held Saturday, Aug. 9, from 4-6 p.m. The gallery is open 11 a.m.-5 p.m. daily, and is located at 309 Mill St. in Historic Occoquan. Contact the gallery at 703-494-0584 or at www.theartistsundertaking.com.
<ro>Coming Soon
<lst>
Leesburg Crossroads' "Fall into the Arts" Committee invites all artists, in any fine-art medium, to submit work for a juried art exhibit at Leesburg's sixth annual "2008 Fall into the Arts Festival" by Aug. 30. This year's festival will be held Saturday, Sept. 27, from 11 a.m.-5 p.m., in historic downtown Leesburg and will include live music as well as special exhibits on the Town Green and throughout the downtown shops.
Artists may submit photos or jpegs on a compact disc of up to three original works along with a $25 entry fee to "Fall into the Arts," c/o Loudoun Academy of the Arts, 222 South King St., Leesburg, VA 20175. Entry forms and instructions are available online at www.fallintothearts.org. E-mail Jim Sisley at jsisley@verizon.net.
More like this story