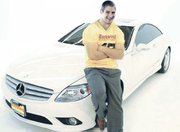 Ever wonder what car Clinton Portis or Jason Campbell drive? On Sunday, Aug. 10, the public will be able to find out what they and a host of other Redskins players own when they join hundreds of other classic and modern car owners for the Redskins Rides Car Show at Redskins Park in Ashburn. The show will play host to what its organizer, Greg Calloway of Eastern Motors, who is sponsoring the event, hopes will be one of the largest car shows in the area.
"Easterns has been using the 'Skins players in their TV commercials and when the opportunity came about to produce a car show we jumped all over it because it was perfect for us. We have players coming out with their cars on display, we have several food vendors, we're giving out a lot of prizes — we've got 10 Garmin navigation units we're giving out, free auto detail, a car," Calloway said.
The event will run all day and feature cars ranging from classics to modern sports cars. The Redskins will be around, signing autographs and showing off their own cars. Chris Cooley has a Mercedes CL he will be bringing while Mike Sellers said he will be showing up with a tricked out Impala, just to name a few. Calloway says that around half the cars will be privately owned while the others will be from body shops and other area car businesses. There will be hundreds of cars coming from as far away as Pennsylvania and all of them will be competing to win prizes like best in show.
"This is the second annual car show and last year … the players just walked around looking at cars and enjoying themselves. It will definitely be a chance to talk to the players and meet and greet," Calloway said.
Along with the cars, the show will feature live music throughout the day and an hourly raffle for prizes, one of which is a classic Mercedes worth more than $20,000. The Redskins' cheerleaders will also be making an appearance at the show along with a plethora of food from The Original Steakhouse, who will be cooking hot dogs, ribs and more and Papa John's Pizza all at a discounted price.
"It's a great family event. Sometimes when you go to car shows it gets a little adult, but we're directing this straight to families," Calloway said. "We want people to come out with cameras and autograph materials and have an amazing day with family and friends."
Not only will the car show be a great chance for children and adults alike to poke around some classic cars and hang out with Redskins players, but all the proceeds from the event will be going to the Washington Redskins' Charitable Foundation and the Eastern's Community Care Foundation. Both charities help out the local community in the area with money and support for programs.
"I just want the attendees to come out and have great time," Calloway said. "We're really doing it for the fans as well as for charity. Our goal is to raise as much money as possible so that next year we can get even bigger and raise more money."
More like this story