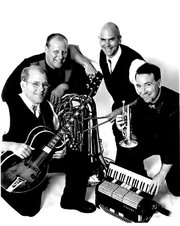 The Bluemont Concert Series will present Dixie Power Trio Sunday, Aug. 10, on the lawn of the Old Loudoun County Courthouse, 850 North King St., Leesburg, 7 p.m. Admission is $5 per person, $4 Bluemont Friends and seniors, $2 for children under 12; proceeds support Bluemont's year-round Artist-in-Education program in area schools. Concert goers are encouraged to bring a pillow or a blanket to sit on and a picnic to enjoy. Contact the Bluemont office at 540-338-4640 or visit www.bluemont.org.
Introduce yourself:
I am Zack Smith, the leader of the Dixie Power Trio.
How did you get your start?
The band formed around 1992. Back then, we were a three-piece group with banjo, tuba and me on cornet — playing Dixieland and rock and roll covers. Over the years, the band has changed and grown into a four-piece band with guitar, bass guitar, drums and me on cornet/accordion/rubboard and vocals. We play a mix of Zydeco, Cajun, rock, funk and New Orleans jazz.
How long have you been performing?
The band has been playing and touring for about 16 years.
What has been your best memory when it comes to music?
There are many, but one of the highlights was when Wynton Marsalis and his band came and sat in with us at an event in Washington, D.C. We ended up marching around the room playing "When The Saints Go Marching In."
Describe your sound:
We play the music of Louisiana. About half of our concert repertoire is original music with the same flavor.
Biggest musical influences:
Buckwheat Zydeco, Terrance Simien, Dirty Dozen, Professor Long Hair, Beausoleil, Louis Armstrong.
Other influences:
There are too many to name. As musicians, we are influenced by just about everything we hear.
Favorite pieces? Why?
Most of my favorite pieces we do are original tunes — stuff like "Virgil Under the Hood," "Happy Song," "Baby Give Me One More Chance." They all are the result of real life inspiration — and they are fun to play. A new song I have been enjoying playing lately is a tune by Branford Marsalis called "Mo Better Blues," from the movie of the same name. Our guitar player Chuck Underwood has been killing it.
Where is your favorite place to perform and why?
One of our favorite places to play is Ashland Coffee & Tea in Ashland, Va. It is a great listening room, with really cool people who run it. We also enjoy playing the Dockside Restaurant in Colonial Beach, Va. — the vibe there is very loose and we can play pretty much anything we want to and the audience is open to it.
What do you enjoy most about performing live? The reaction and energy that an audience creates.
Anyone you would really like to play with? Why?
I would love to trade solos with Nicholas Payton and Leroy Jones. They are two of my favorite living trumpet players.
Best compliment about a performance?
The best compliment anyone can give a performer is when they buy your compact disc at the end of the show. It means that you actually touched them somehow — and you can't ask for a whole lot more than that.
Anything special about the upcoming show?
It has been a long time since we played a Bluemont Concert in Leesburg. One of our first shows for the Bluemont organization was in Leesburg — I hope to see a lot of long-time fans there.
Most recent song you've listened to?
I just heard that song "Mercy" by some female English retro singer (Duffy?). It made me hopeful that people will start wanting to see bands with actual musicians once again (instead of prefabricated singers lip synching to a DJ).
How can people hear your music?
They can check us out on our Web site: www.Dixiepowertrio.com, our Myspace site myspace.com/zacharysmiththedixiepowertrio, they can probably see a clip of us somewhere on You Tube — or they can come to our concert in Leesburg on Aug. 10.
Future Plans:
We plan on continuing our course of playing fun, high-energy Louisiana party music. We also may start work on our eighth CD sometime in the next year.