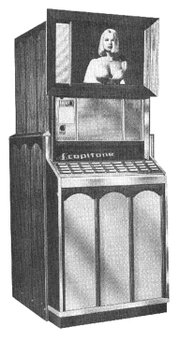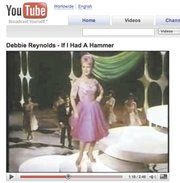 <b>BEFORE YOUTUBE,</b> before VH1, even before MTV, there were Scopitones.
<p>Scopitones were large, wood-paneled contraptions from the 1960's that played sound and showed a video on an 18 by 20 screen. Essentially, they were video jukeboxes from an age when the idea of a music video was still a foreign concept.
<p>"They're really just wonderful," said Jim Byers, a programmer with Arlington County's Division of Cultural Affairs. "This whole thing is just a wonderful encapsulation of where we've been."
<p>Scopitones were developed in France from WWII-era military surveillance technology and were briefly marketed in the U.S. in the mid to late sixties. But, due to competition from jukeboxes and prohibitive maintenance costs, Scopitones never really caught on.
<p>Byers, a big music buff, discovered what he calls "the odd world of Scopitones" while looking online for Latin jazz videos. What he found were dozens of performances from the mid-1960's that looked like primitive versions of the modern music video.
<p>Byers thought that Arlingtonians would find these Scopitone films as strange and fascinating as he did. Last week, he organized a Scopitone-watching event at Lubber Run Amphitheatre.
<p>In terms of strangeness, the videos did not disappoint.
<p><b>THE MOST</b> remarkable thing about the Scopitone films is how they show that the art of music video making hasn't really changed all that much since the 1960's.
<p>The gimmick of shooting a video in one continuous take – as exemplified in videos by Weezer, Radiohead, OK GO, Feist and many others – had already been conceived in the early 60's by gospel-R&B group The Delta Rhythm Boys in their unintentionally surreal clip for "Come Softly Darling."
<p>Since Scopitones were mainly installed in bars and nightclubs, many of the films feature the oft-used trope of extreme close-up shots of scantily clad young women.
<p>"We had to be very careful where we put them," former Scopitone operator Jim Howland said of the risqué nature of many Scopitone films. "Only in bars."
<p>The Scopitone clips also reflected the time in which they were made. Several play with Cold War fears of nuclear annihilation.
<p>"You're my radiation baby, my teenage fallout queen," sang comic rocker George McKelvey in one clip. "My Geiger counter tells me that you're hot!"
<p>Scopitones were also racially progressive for their time. Many of the clips feature integrated musical acts as well as integrated backup go-go dancers.
<p>However, not all of the Scopitone clips were works of art. In one, Debbie Reynolds is shown doing her interpretation of Pete Seeger's civil rights anthem "If I Had A Hammer" in front of a gaudy – and all-white – troupe of Broadway dancers.
<p>"It shows the tension of that time," Byers said. "She was very involved in the civil rights movement and she was very sincere. But the presentation and the production was ridiculous."
<p><b>HOWLAND,</b> who lives in the area and came to the film screening at Lubber Run, used to work for a company that installed Scopitones in bars in the 1960's. He said that, almost immediately, people took to the idea of adding a visual component to popular music.
<p>"People used to sit at the bar, stare at the screen and drink," Howland recalled. "All night long."
<p>The downfall of the Scopitone, according to Howland, came from unfair competition from the jukebox companies. Howland said that jukeboxes hated Scopitones and would offer to pay a bar owner's liquor costs for a month if they would agree to not purchase a Scopitone.
<p>Also, he said that the machines were constantly breaking down. "We had to get the parts from France," Howland recalled.
<p>Byers couldn't find an actual Scopitone machine to bring to Lubber Run and Howland didn't keep one. "I was happy to be rid of them," he said.
<p>So Byers downloaded some of the videos from YouTube and showed them on his laptop.
<p>As he was setting up, Byers was having some trouble getting the videos to work. "I wish it was a Scopitone!" he said as he fumbled with the computer. "You have to put a quarter in it," an audience member retorted.