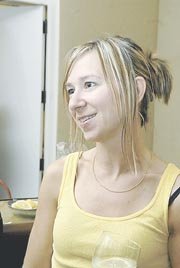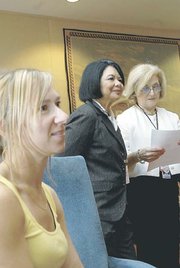 Beyond Dragons — an east-west fusion of interior design, presented by the Women's Committee for the National Symphony Orchestra — was announced last week at a luncheon at the Kennedy Center. The design show will be held this year at the Chevy Chase Women's Club on Oct. 22-26. Ten local designers will be featured. Feng Shui, table settings, Ikebana and window treatments are some of the workshops and demonstrations already scheduled for the five-day show. The Embassy of Japan is tentatively planning a Tea Ceremony.
Local designers include Camille Beers, Reston; Sally Steponkus, Washington, D.C.; Liz Levin, Washington, D.C.; Sandra Meyers, Rockville Md.; Shannon Munn, Springfield; Janet Morais and Anna Bimba, Manassas; Luis Florendo, Baltimore Md.; Karen Luria and Mary Beth Schepp, Alexandria; Tracy Morris, Washington D.C. and Ian Simpson of Smith & Hawken in Chevy Chase Md.
In addition to the Women's Committee and the designers; members of the ASEAN Women's Circle are participating with this year's show. This non-profit organization is composed of wives of ASEAN ambassadors and diplomats, and female diplomats from the 10 ASEAN (Association of Southeast Asian Nations) embassies. The 10 ASEAN nations are: Brunei, Cambodia, Indonesia, Laos, Malaysia, Myanmar, Philippines, Singapore, Thailand, and Vietnam.
For more information on the upcoming show visit <a href=http://www.kennedy-center.org/celebrations.> www.kennedy-center.org/celebrations.
</a>