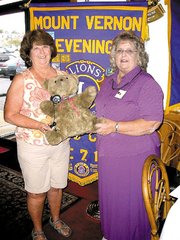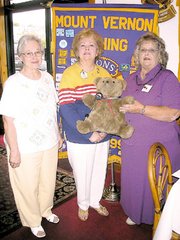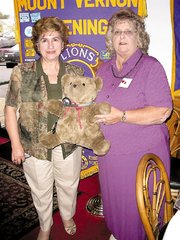 A sick child at Inova Fairfax Hospital will soon be receiving a new found friend thanks to the generosity of the Mount Vernon Evening Lions Club. It will be the patient's very own "Spinoza Bear" —"the Bear who speaks from the heart."
Inside this cuddly bear is a CD player that plays a series of comforting songs and messages that can be tailored to each patient's needs. Sanctioned by the hospital nationwide, the bear is even permitted to go along with the child even into the operating room, according to Reba Maise, Lions Club treasurer.
"The bear contains a CD player and is equipped with ear phones so the child can play the recording in their room. Specialized recordings can even be made by the family and played with the bear's CD," Maise said.
"Once we present the bear it becomes the property of the patient and their family," said Club President Joan Binsted. The hospital decides which patient will get the bear, according to Maise.
Spinoza bears are manufactured by the Spinoza Company in Cornucopia, Wisconsin. They sell for $160 plus. The Mount Vernon Evening Lions Club has been presenting the bears to hospitalized children for nearly 20 years. "I first learned of them when I attended a Lions Club convention in Richmond," Maise said.
"Sometimes we give more than one a year. It all depends on the circumstances and our finances," Maise said.
Tuesday night's club program at Pema's Restaurant on Richmond Highway featured a speaker from the Lions Club Special Needs Project. It was also Beach Party night with members of the all female club dressed in a variety of beach attire.
Spinoza and his other woodland friends have a library of nine CD's that "instill self worth, give positive reinforcement, are motivating, help open communications, can be relaxing and comforting or energizing and invigorating," according to the company website.
Spinoza Company celebrated its 20th anniversary in 2004. Their bears have been used to comfort infants as well as residents of nursing homes. For more information about Spinoza Bears visit their website at <a href=http://www.Spinozabear.com.> www.Spinozabear.com</a>